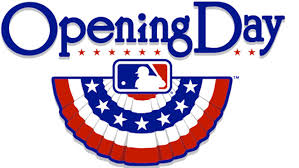 It's finally baseball season, which means it's time for Baseball Chick's 2016 predictions (though they do come a few days too late).  Let's start in the West.
AL WEST
Houston Astros, 88-74
Los Angeles Angels, 85-77
Texas Rangers, 82-80
Seattle Mariners,  80-82
Oakland Athletics, 69-93
The Astros are full of young talent and have signed 25-year-old Ken Giles to close out games for them in 2016.  Their talent should continue to mature and likely push them to the top spot with the Angels close behind, despite some questionable off season transactions (or lack thereof) by the Halos.  It's hard to ever count a team out that boasts Mike Trout, the best player in baseball, and a future 1st ballot Hall of Famer – Albert Pujols.  Texas did win the division last year, but probably lost more than they gained in the off season.  New Seattle GM, Jerry Dipoto made many small off season moves, but probably just enough to finish around .500 and Oakland will probably struggle to win as many games as they did in 2015.
AL CENTRAL
Kansas City Royals, 90-72
Minnesota Twins, 86-76
Cleveland Indians, 81-81
Detroit Tigers, 78-84
Chicago White Sox, 77-85
Kansas City kept most of their World champion team together for the 2016 season which bodes well for them.  Don't count out the Twins with their scrappy young squad including Byron Buxton and Miguel Sano as well as Korean powerhouse Byung-ho Park.  Detroit improved their pitching some (a weak spot in 2015) but did little else to improve, while Cleveland did very little to improve on their .503 record.  The White Sox made some big waves by signing Todd Frazier and Brett Lawrie among others, but it's not clear if they did enough to be in contention.
AL EAST
Toronto Blue Jays, 92-70
New York Yankees, 87-75
Boston Red Sox, 82-80
Tampa Bay Rays, 79-83
Baltimore Orioles, 77-85
Toronto is the team to beat, but if anyone can do it – it's the Yankees and their deadly bullpen that now includes Aroldis Chapman.  This should mostly be a two team race in 2016 with Boston helping push the Yankees and Blue Jays, considering they added David Price and Craig Kimbrel.  Baltimore and Tampa Bay didn't do much during the off season to improve their postures and both teams will be lucky to hit .500.
AL WILDCARDS
Angels, Yankees
ALCS WINNERS
Angels & Blue Jays
AL CHAMPION
Angels (duh)
NL WEST
Los Angeles Dodgers, 90-72
San Francisco Giants, 89-73
Arizona Diamondbacks, 81-81
San Diego Padres, 70-92
Colorado Rockies, 63-99
I'm going to go out on a limp and say even year scmeven year.  Everyone thinks it's the Giants' time to shine again, but The Dodgers will edge them out. Scott Kazmir and Kenta Maeta should help boost the Dodgers rotation, while the Giants went for Johhny Cueto, Jeff Samardzija, and Denard Span.  Clearly the Giants made some upgrades, but you can't win EVERY even year can you?  Arizona signed Zach Grienke and Shelby Miller to help fill their biggest need – pitching.  San Diego went into full rebuilding mode and probably won't finish last just because the Rockies gave up even trying to win in 2016 with their rebuilding plans.  Could Colorado lose 100 games this season?
NL CENTRAL
Chicago Cubs, 94-68
Pittsburg Pirates, 90-72
St. Louis Cardinals, 87-75
Milwaukee Brewers, 67-95
Cincinnati Reds, 65-97
Milwaukee and Cincinnati will help balance out the fact that the top three teams in this division are three of the best teams in all of baseball.  Competition will be fierce but it's the Cubs time to shine.  The Pirates and Cardinals didn't really keep pace with the Cubs who were already a solid team and added Jason Heyward, John Lackey, and Ben Zobrist this off season.  Meanwhile, The Brewers and Reds are still in rebuilding mode and will likely be two of the worst teams in baseball in 2016.
NL EAST
New York Mets, 92-70
Washington Nationals, 87-75
Miami Marlins, 80-82
Philadelphia Phillies, 68-94
Atlanta Braves, 62-100
New York didn't change a lot that was very substantial from their 2015 roster. They still have hot young pitchers and solid offense.   Washington lost some key players and didn't really fill the holes they left behind with the departures of Denard Span, Yunel Escobar, and Jordan Zimmerman, but they still have a powerful team that will give the Mets a run down the stretch.  Miami made a few key pickups but will probably stuggle to reach .500 like the rest of the teams in this division.  The Phillies and Braves were both busy, and both are in rebuilding mode.  You can't count either of these teams out in a few years, but for now they will likely both go under 70 wins.
NL WILDCARDS
Pirates & Giants
NLCS WINNERS
Cubs & Dodgers
NL CHAMPION
Cubs
World Series Champion: Angels in 7 games