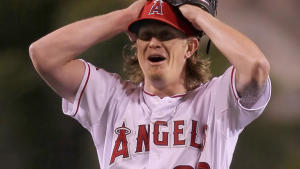 That was a tough one last night and there is a lot of say about it.  Let me start with 0 for 18.  No I'm not talking about John McDonald's batting stats for September, but rather the combined at bats of Mike Trout, Albert Pujols, Howie Kendrick ,and Josh Hamilton.  If that offense wasn't underwhelming then I don't know what is.  You simply can't win a game if you don't score runs.  You can't score runs if you don't get on base.
Note that the picture above is after Weaver pitched his no hitter earlier this year.  He was in disbelief.  Sort of like how he was when they lost this game despite his great pitching.  So it fits.  
Take your pick for which of the following played the biggest factor in last night's game:
Pitching
Weaver pitched amazing.  He gave up only 3 hits over 7 innings and did perhaps even more than was expected from him.  The problem is that Jason Vargas pitched equally as well (so did the Royals bullpen), keeping the Angels bats pretty quiet most of the night.  Joe Smith was great, Huston Street was great.  That pitch Fernando Salas threw for what would turn out to be the game winning homerun  was not so great but it wasn't the worst pitch in the world either – just ended up being a bit too much up in the zone.
Defense
The Royals flashed their defensive skill on Thursday including a leaping grab at the wall that robbed Kole Calhoun of a lead off double or triple.  Apparently you can't underestimate their running game OR their defense.
Baserunning
Royals stolen bases on Tuesday = 7.  Royals stolen bases on Thursday = 1.  Runners picked off on Thursday = 1.  Kudos to Mike Scioscia, Weaver and gang for keeping the Royals running game in check.  It helped that Weaver only let 5 people get on base in 7 innings and he picked off one of them.
Hamilton Factor
I'm not a Hamilton apologist, but I'm not convinced his game was AS horrible as most made it out to be.  He did make a nice sliding catch.  I'm also not convinced that line drive hit was catchable.  MAYBE a 20% chance if he were right handed.  MAYBE Cowgill would of had it.  Also there is that catch against the wall that Hamilton made.  A nice grab and then he sat down almost as if he were saying "Baseball is hard".  Let's face it, when was the last time you ran into a wall in the air and caught a ball then landed on your feet – then made a perfect throw home to get the out?  I don't think he had that throw even if he stayed on his feet.  Hamilton's hitting?  Yeah it sucked.  So did Trouts.  So did Kendrick's.  So did Pujols.  Hamilton though looked like he was uncomfortable up there.  I'm not sure Cowgill in the game would have changed things much though.
Freese Frozen Out
I have an idea..  Let's take a guy out with a proven track record in the post season – the same guy who tied up the game with a homerun in the 5th so that we can have someone faster run for him, meanwhile taking his bat out of the lineup.  That would be akin to taking out Chris Iannetta to pinch run for him and replacing him behind the plate with Hank Conger.  Some things you just don't do.  Unless of course you are Mike Scioscia trying to make your first stupid decision of the game.
Bunting Fiasco
Being a manager in the post season is not easy, and just to show us they aren't perfect, even though they make millions to be close to it, they do something stupid.  Like Ned Yost putting in Yordando Ventura on two days rest against that A's, having Calhoun trying to sacrifice bunt in order to advance Chris Iannetta to second was mind boggling.  Kole Calhoun swings a great bat and he had only bunted TWICE in 2014 and ONCE in 2013.  This guy has no business bunting with the score tied in the bottom of the 8th.  Let alone on a 2-0 and 3-1 count.  Stupid really doesn't begin to describe that situation so let's leave it at that.
Mistakes were made in this game for sure.  Hamilton was not great either.  In the end, the Angels ultimately lost this game because they couldn't hit.  Thanks a lot Don Baylor.  We need to see this high powered offense come to life.  It's one of the Angels strengths, and we are going to need it if we want to go far into October.