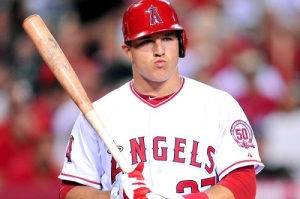 For much of the game last night at Angels Stadium it was loud.  Real loud.  Even when the Angels spent much of the game down 1-0.
Matt Shoemaker was back on the mound (thankfully) and pitched a gem of a game.
Kole Calhoun led off the Angels with a single then Mike Trout swapped placed with him on a fielder's choice.  I'm sure many did not expect Trout to run with Pujols at the plate but run he did.  His jump was slow and he was out by a mile.  Que Pujols ground out and suddenly the promising start was a 1-2-3 inning.
A rare error by Kole Calhoun in the second inning led to Eric Hosmer taking second base instead of staying on first.  Shortly there after he scored the game's first run (and only run for a while).
Shoemaker continued to pitch well and for some odd reason he was pulled after 6 innings with 6 Ks, 0 earned runs and only 82 pitches.
The Angels rallied (for Shoe?) in the bottom of the 6th and tied up the game with a two out Pujols single.
The rest of the game pretty much went like this:
Jason Grilli pitched well.  Joe Smith Pitched well.  Huston Street pitched well. Then came Kevin Jepsen.
Jepsen faced that pesky Hosmer after giving up a hit to Lorenzo Cain.  Hosmer proceeded to put the ball over the right field wall and collective oh "#$@" echoed throughout the stadium.
In the end, the Angels lost and no you can't blame it on Scioscia or Hamilton. I mean sure Hamilton looked completely lost at the plate going 0 for 4 and making the last out THREE times, but the entire offense was not present yet again.
Even Mike Trout was 0-fer again and still boasts a .000 post season batting average – AND he struck with Calhoun on base to end the game.
Sure you can second guess that Hamilton was even IN the lineup or that Shoemaker was taken out too soon when you could have bumped back all the pitchers with Street pitching the 11th but in the end, the Angels bats were pretty quiet – though definitely better than Thursday night's game.
44 times team have been facing a 0-2 deficit in a divisional series matchup and 5 of those times the teams made a comeback.  This equates to a roughly 11% chance the Angels can stay in this, and let's face it – the odds could be much worse.  Comebacks happen (The Giants came back down 0-2 games and won the World Series last year.  The Red Sox were down 0-3 games in the 2004 ALCS and they won the World Series).
2014 Angels – down but not out!