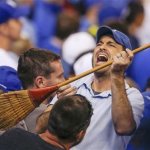 I've been thinking about what to write in this post since the game ended yesterday.  Don't expect a lot of praises for the Kansas City Royals because this is an Angels blog after all!  But to be fair, the Royals DID just outplay the Angels and now they move on while Scioscia and company watch the rest of the season on TV.
I think the bite stings a lot more given the fact that the Angels had the best record in baseball going in to the post season and they hadn't been swept in back to back series ALL SEASON.  In fact, they were barely swept at all and the Angels ended their regular and post seasons by being swept.  It's almost as if  they were a completely different team since clinching their division.  And now, the Angels have the dubious honor of being the first team boasting the best record in baseball to be swept out of the post season.  Thanks a lot Eric Hosmer and Lorenzo Cain!
Many fans (including me), are going to blame the loss on all sorts of different things like we didn't bunt enough, we bunted too much, Hamilton shouldn't have played, so and so should have pitched game 3.  However, for the most part – in the end, it  just wasn't meant to be for the Angels in 2014.
Series Highlights:
Jered Weaver Game 1 – Weaver did exactly what was expected of him in game 1.  He pitched 7 solid innings and only gave up 2 runs on 3 hits.  He gave the Angels the performance they needed.
Matt Shoemaker Game 2 – Like Weaver, the night before, Shoemaker pitched a great game Friday night.  He struck out 6 and only gave up 1 run on zero walks over 6 innings.  Many wondered whey he didn't pitch the 7th since he was only 82 pitches in, but partially it may have been because he hadn't pitched in a few weeks.  Well done Shoe!
Eric Aybar – Kole Calhoun did alright, but Aybar is the only one who hit well during the series.  He had a .455 AVG and was 4 for 4 in game 3.  Unfortunately you can't have 9 Eric Aybars in the lineup.
Series Lowlights:
Josh Hamilton looked exactly like someone who hadn't faced in-game pitching for weeks.  The Angels lacked in offense all around, but Josh Hamilton's swing and plate discipline was just plain horrible.
Angels Offense – Pujols, Kendrick, Freese, Cron, Iannetta, Trout and Hamilton (That's everyone but your #1 and #5 hitter) hit a combined 8 for 77 and a .103 average.  Not one of those 7 hitters batted higher than .167.  Four of the Angels six total runs came off home runs.  The offense was just plain ugly.
Mike Scioscia – Second guessing a manager is a tough thing to do, especially if you haven't managed a post season MLB team (and 99.9999% of the critics have not).  However, he certainly made some incredibly odd choices – not the least of which was putting faith in Josh Hamilton who had a pretty bad season and hadn't faced any recent live pitching.  Another odd choice was Santiago in the second inning of game 3 instead of Cory Rasmus who had been pitching amazing and Santiago had been shaky.  I also think it's pretty inexcusable with Hamilton in the lineup or not – that you put in the SAME non producing lineup 3 days in a row.  If it's not working you just keep trying until it does?  I could go on and on with picking on Scioscia's managing but I'll stop there.
If I were going to place blame anywhere for this disastrous series it would go like this:
75% – Mike Scioscia (He is the leader.  He made the decisions and set the tone)
15% – Lackluster offense (including Josh Hamilton)
10% – Bullpen pitching (not entirely to blame though since the games were close and Scioscia chose who and when and where)
Now it seems we are left with rooting for just about any team BUT the Kansas City Royals.
The silver lining we are left with is most of this team will stay intact for 2015, Garrett Richards will be back, and not a lot of changes will need to be made to be right up there with the best next season.