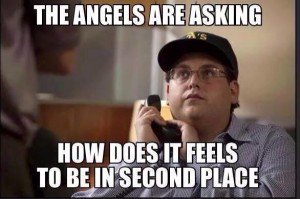 Last weekend while I was away playing baseball in Rockford, Illinois, the Angels were playing their own baseball games in Anaheim.  And were they ever!  Before the series, there was a big question mark with an unknown starter set for game 3 of the matchup.  No one would have been surprised if the Angels dropped a game, or even if the two teams split the series.  Not only did the Angels sweep the Athletics, they embarrassed them.  Consider some stats:
19 = Number of Angels runs
4 = Number of A's Runs
29 = Number of consecutive scoreless innings the Angels pitched
2 = Number of shutout games
1 = Number of A's players with extra base hits (Donaldson)
The Angels owned the A's all weekend.  The only exception was the close 4-3 10 inning game with a lackluster start by CJ Wilson in game 1.  Weaver was amazing.  Shoemaker was amazing.  Rasmus and the bullpen were amazing Saturday with 11 combined strikeouts, 3 hits, 2 walks, and a team pitch shutout.
The Angels need to go 17-9 to hit  100 wins on the season which means playing .650 ball (they having been playing .700 ball lately).  Anything is possible and the season is far from over.
100 wins or not – it's all about playing well in October which the Angels are pretty much a lock for at this point.  The Angels would have to blow about a 10 game lead in order to not at least have a wildcard spot and that's pretty unlikely given only 26 games left.