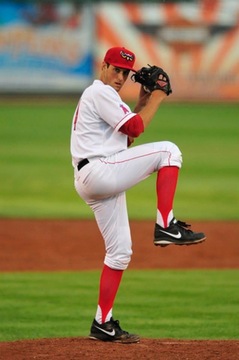 The Angels have invited 12 non roster pitchers to join them in sunny Tempe this spring.  Some names you have probably heard of, and others not so much.  Let's break them down, including chances of a roster spot (at any point) in 2015.
Trevor Gott
Gott is a 23-year old reliever who came over to the Angels from the Padres as part of the Huston Street trade.  He has converted 22 of 29 saves in his short minor league career and amassed 101 Ks through 96 innings along with a 1.21 WHIP.  In 2014 he had a pretty average K/BB ratio of 2.4.
Gott only has 29 inning at the AA level (the rest A or below) so it's highly unlikely he makes an opening day roster but he could have a shot by year end depending on how the cards fall.  I would have given him at least 30% chance at them roster if he didn't have a HORRIBLE time in the Arizona Fall League.  A 1.77 WHIP and 6.14 ERA – seriously??
2015 Roster Chance: 20%
Frank Herrmann
I admit that I had to look this guy up and he's been around since 2006 so obviously isn't on the top of many lists, but that's partially due to being out recently for Tommy John surgery, and partially, well, because it's just not been that great.
Hermann was signed from the Rockies and had a 4.26 ERA in 95 appearances with the Cleveland Indians from 2010 to 2012 but missed all of 2013 due to surgery. He had a not-impressive 6.37 ERA in 42 appearances for AAA in 2014.  The only reason he is at spring training is that it was part of his signing deal.
2015 Roster Chance: 0%
Edgar Ibarra
Another guy that's been floating around since 2006 and has already played on 8 different teams. He's like a hot potato apparently or that game where you don't want to get stuck with the buzzer before time runs out.
He did make his was into AAA last season for the Twins going 5-0 with zero saves in 5 opportunities.  Ibarra has a 2.01 K/BB ratio which speaks of control issues and he's another guy that only got a spring training invite as part of his signing deal.  He was acquired (like Herrman) mainly for minor league pitching depth.
2015 Roster Chance: 0%
Matt Lindstrom
The phrase "bounced around more than a kid in a bouncy house" comes to mind with Lindstrom.  Making his debut in 2002 this guy is the definition of non-committal (as if his moves were his choice).  Thirteen different minor league teams and 6 different major league teams tells me he's trying for a blackout in MLB bingo.
Lindstrom however, has had his moments, and is throwing well in spring training so far.  In 2014 he was basically a batting practice pitcher for opposing hitters allowing a .338 AVG and 1.74 WHIP.  He's in a great spot because if he doesn't make the MLB roster, he gets a $100,000 bonus to stay in the minors.  The one good thing Lindstrom DOES bring to the team is experience.
2015 Roster Chance: 40%
Ryan Mattheus
Mattheus had a pretty noteworthy ERA of 1.04 for the Nationals in 2014.  Of course that was with only 8.2 innings pitched since he was a 40-man call up in September.  Considering he had a 1.0 K/BB ratio in 2014 and 1.47 in 2013 for the Nats, I'd say control isn't' exactly a strong point.
Yet  again, this is a guy that was signed to a minor league deal with a spring training invite.  Apparently GM Jerry Dipoto gives out those invites like candy.
2015 Roster Chance: 5%
Sean Newcomb
Unless you are on the Oakland Athletics, you don't get much more green than Newcomb (hah – get it?).  The Angel's picked this guy up in the first round of the 2014 draft.
This lefty is a top 10 Angels prospect and likely they want a good look at him during spring training.  He's too young and too inexperienced to make the roster in 2015.
2015 Roster Chance: 0%
Adam Wilk
Stop me if you've heard this one before.  Wilk was signed to a minor league deal with a spring training invite. Seriously.  It's like candy.  Wilk does have 24.1 whole innings of big league experience but his 6.66 ERA should scare you away.
A fun little statistic is that he gets pretty close to a dead even amount of fly outs vs. ground outs.  Not really all that relevant but what else am I supposed to say about Wilk?
2015 Roster Chance: 0%
Alex Sanabia
Dipoto loves to add pitchers to the roster that make us go WTF, while hoping they somehow make him look like a genius.
Sanabia has some experience with 138.2 major league innings pitched.  He has an MLB career 1.44 WHIP and 4.08 ERA.  Because he has experience we could see him later in the year if he is needed.
2015 Roster Chance: 20%
Atahualpa Severino
Severino has given up ZERO homeruns in the majors.  Of course he has only pitched 4.2 innings.  In the minors he has given up 33 dingers in 485 innings which amounts to 1.6 per 9 innings and is not such a great number in that light.
2015 Roster Chance: 5%
Nate Smith
Smith is a gem and a top Angels prospect with an off-speed pitch that is apparently baffling to opposing hitters.  Smith has moved up fast from rookie ball in 2013 to A Advanced in 2014 and AA that same year.  His final 2014 numbers were 2.97 ERA, 1.13 WHIP and 9 K/9.
Smith will likely start or end up in AAA this season and we could see him as a September call up (or sooner).
2015 Roster Chance: 75%
Scott Snodgress
Snodgress pitched 2.1 innings for the White Sox last season before they ultimately non-tendered him.  Perhaps because he game up 7 runs over those 2.1 innings and also perhaps because he was not quite ready for prime time.
Snodgress has a decent minor league career going with a 3.84 ERA in 483 innings and a 1.35 WHIP.  I imagine the Angels will land him in AA for now.
2015 Roster Chance: 0%
Albert Suarez
Also signed to a minor league deal.  Also ice cream.  Yada yada.  Maybe I'm tired after writing about 11 other mostly average pitchers or maybe there just isn't much to say about Suarez at this point.   He's land in AA as well, like with his teammate Snodgress and a few others on this list.
2015 Roster Chance: 0%