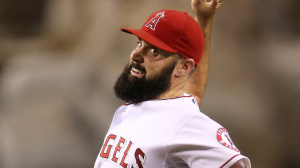 There are essentially 9 starting pitchers in Tempe for 5 spots.  Since Garrett Richards is set to start the season on the DL, there will be 7 pitchers vying for those 5 spots (at least for the first few weeks of April).  Let's take a look at all 9, along with the chances of making a substantial number of starts in 2015 (10+ games or so)
Andrew Heaney
If you are going to trade away Howie Kendrick, then have a lot of faith in the pitcher you get for him.  Heaney is not only a top Angels prospect, but a top 25 prospect in all of MLB.  He has had a very impressive and short minor league career but a very disappointing 29 big league innings with Miami last year (5.83 ERA, 6HR, .281 BAA).  He has a serious shot at that number 5 spot and an even better shot at starting while Richards is out.
2015 Active Roster Chance: 50%
Garrett Richards
The question remains.  Can Richards put up dominant (near Cy Young) numbers like he did last season before going down with his knee injury?  Richards was a force in 2014 with a 1.03 WHIP, 13.4 record, and 2.61 ERA.  If Richards is anywhere near his numbers from last season, then the Angels are in good hands.
2015 Active Roster Chance: 100%
Drew Rucinski
Rucinski stuck out 8 in 7 big league innings last year.  More impressive is the fact that he went from throwing in the independent Frontier League in 2012/2013 to his big league debut in 2014.  Rucinski had a 3.15 ERA for the Travelers last season with 140 Ks in 148 innings, a 10-6 record, and 1.23 WHIP.  Rucinski definitely adds depth to the Angels pitching staff and is one of the few with a shot at the opening day rotation.
2015 Active Roster Chance: 33%
Hector Santiago
Oh Hector.  Where do I start?  I don't think Santiago belongs in the starting rotation and he would make an awesome middle reliever.  Scioscia and Santiago insist this guy should keep starting so here we go again.  Santiago is your guy if you want 4-6 innings out of your starter but is that all we want?  Santiago will be on the roster.  Let's hope it's in the bullpen.
2015 Active Roster Chance: 100%
Matt Shoemaker
The beard.  The man.  Shoemaker came out of nowhere and was simply amazing last season – especially post all star break where he went 9-2 with a 1.87 ERA, .84 WHIP, and a .202 BAA.  Those numbers were absolutely dominating and some of the best of any Angels pitcher in 2014.
2015 Active Roster Chance: 100%
Nick Tropeano
Another solid rotation option, Tropeano also shows how far the Angels have gone with pitching depth.  His numbers were great in 2014 in AAA – 3.03 ERA, 9-5, .99 WHIP and 120 Ks in 124 innings.
2015 Active Roster Chance: 33%
Jered Weaver
Likely the opening day starter, Weaver is the workhorse of the staff.  His 2014 season was mostly just average.  Not bad, not amazing.  Just Weaver.  Weaver goes deep into games though only threw 1 complete game over the past two seasons.  I expect more Weaver out of him again this year.
2015 Active Roster Chance: 100%
C.J. Wilson
Wilson didn't do anything different this off season and why should he? His 2014 season was amazing right?  The reality is that Wilson blames his performance last year on pitching sick and injured more than he should have.  Hopefully we get more of the 2014 April/May Wilson (during which time he threw a shutout) than we do the June/July/Aug/Sept Wilson.
2015 Active Roster Chance: 100%
Jose Alvarez
Big ole maybe for 2015.  Alvarez missed most of last season due to surgery but is a dark horse for a starting job.  I don't think he will crack the rotation in 2015 but he could see some time as a reliever, especially come September.
2015 Active Roster Change: 5%