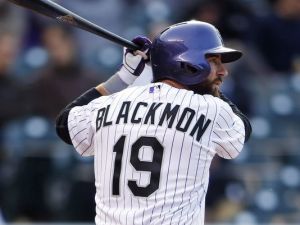 Once Josh Hamilton was dumped traded to the Texas Rangers, just about everyone in the Angels organization knew that meant some type of trade in 2015.  The current left field platoon of Matt Joyce and Collin Cowgill is not working out, nor was it meant to work out.  It's merely a bandaid to the current problem until we can get the stitches in.
Never mind that we have production issues at DH and catcher as well, the most immediate need is certainly for a GOOD every day left fielder.  Who are the options?  The Angels are knee deep in pitching prospects and semi thin when it comes to offensive potentials.  This leaves the teams willing to make a trade at those with weak pitching staffs whoare starting to lose hope in a 2015 playoff run.  Names from teams possibly willing to deal include:
Adam Lind, Brewers
Lind went to the struggling brewers last year and his contract is up at the end of 2015.  His price tag is not bad at $5 million and his contract is up at the end of the season so he'd be a short term fix.  Lind has power potential and hit 35 home runs at his peak in 2009.  However, that number is an outlier and he only hit 6 home runs in 290 at bats in 2014.  Lind is hitting .286/.377/.506 so far in 2015 so he certainly does have some value as someone who can get on base with a decent slugging percentage.
Ben Revere, Phillies
Revere is speedy but has just about zero power with 2 career home runs in 2000+ at bats.  A career OBP of .322 isn't exactly amazing but it's ok and his speed can do some damage when he DOES get on base.  Revere has swiped an average of 45 bases per year the last 4 years with an 80% success rate.  He is a strong fielder and is cost is low at $4 million, but I don't see him being all that valuable to the Angels lineup.
Charlie Blackmon, Rockies
Blackmon is my favorite on this list.  The Rockies need pitching BAD and we need a left handed power bat in the outfield. Blackmon doesn't have mad power, but he did hit 19 home runs in 2014 and is on pace for 20 more this season.  Blackmon's 2014 line was .288/.335/.440 with 28 stolen bases.
A less likely option includes a trade with the Diamondbacks that could bring Mark Trumbo back to the Angels but his price is $7 million and the Diamondbacks have denied he could be a trade target.  Carlos Gonzalez's name has been tossed around as well, but Blackmon might be an easier target and he's certainly cheaper.