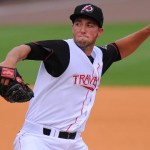 The two best teams in baseball happen to be in the same division and they have a very important 4 game series coming up this weekend at the Big A.
In preparation for the series, the A's made a great move by calling up Drew Pomeranz (because they like pitchers with Zs in their name) to be a sixth starter which lines up their 4 best pitchers for this weekend's matchup.  The Angels will now face Gray, Lester, Kazmir and Samardzija.
How about the Angels?  Nothing is certain at this point, especially with the lackluster outing from LeBlanc last night. Does he pitch again this week?  Against the A's??
Shoemaker is pitching tonight and Santiago is slated for tomorrow, which means the series lineup for the Angels looks like Wilson, Weaver, LeBlanc??, and Shoemaker.
Personally, I think they throw in a minor league starter for Wednesday and bump Santiago to the opener followed by Wilson, Weaver and bump Shoemaker up for the last game in the series.  Then you have September 1st and the roster expansion and there are all sorts of options for who pitches on September 2nd after their day off.  They could go with those same 4 men Tuesday-Friday then deal with that 5th spot on September 6th.  Makes sense to me but will it make sense to Dipoto and Scioscia?
They have some options including veterans Jarrett Grube and Randy Wolf from the Bees.  But let's face it, these two are 32 and 38 and pitching in AAA.  Grube has been absolutely horrible his last 6 starts and Wolf doesn't fare much better.  You also have Drew Rucinski from Arkansas who struck out 17 over his last 12 innings in two starts and Michael Roth.  The main problem with Rucinski is he threw 5 innings on Sunday so that makes him pretty unlikely and Roth just pitched last night so he is out for sure.  I'd really like to see Nate Smith get thrown in there but he is currently on the DL and I'm not sure he'll be ready by tomorrow night.  Smith has moved up fast and is only 22 but he has an impressive 118 Ks in 118 innings this year with a 1.13 WHIP and 2.97 ERA.
I have a feeling we will see a minor league pitcher start against the A's (like LeBlanc redeux) and Santiago will still pitch tomorrow.  I hope I'm wrong.  Though if they go with my plan you pretty much have to pitch Wolf tomorrow night.