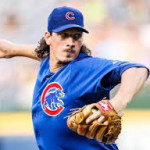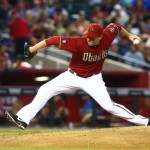 In recent weeks, the two teams holding the best two records in baseball have made some moves to help assure their spot in the post season.
The A's have not made a lot of transactions but they DID make one big one on July 4th.  Despite having the best record in baseball, they were not content to sit by and wonder if their record and inexperienced pitching staff would hold up into October, so they traded away Dan Straily (P), Addison Russell (SS), Billy McKinney (OF), and a player to be named later to the Cubs for All Star Jeff Samardzija (P) and Jason Hammel (P).  Both Samardzija and Hammel arguably have been top 10 pitchers in the NL this year and are likely to benefit from the A's offense and continue their great seasons.  This was a huge move made by the A's and perhaps the only move they needed to make.
The Angels, on the other hand, have made several transactions to improve their pitching strength (most notably in the bullpen).  While no blockbuster trades have been made, they have made moves to raise many eyebrows, including the swap of Ernesto Frieri for Jason Grilli of the Pirates.  With 2 innings pitched in the NL, Frieri has already given up 5 earned runs and only 1 strikeout – so definitely no loss to the Angels. Grilli has inked 4 innings for the Angels and racked up 4 k's with 4 hits, 1 walk and zero earned runs.  I'd say advantage Angels so far, but we will have to see if Grilli can perform well the rest of the season.
The Angels also acquired Rich Hill from the Red Sox but sent him packing off the 40 man roster after 2 lackluster outings. Yesterday, lefty Joe Thatcher was picked up from the Diamondbacks.  "Thatcher appeared in 37 games out of the bullpen for Arizona, posting a 2.63 ERA and an 8.33 strikeout-to-walk ratio. He has not walked a batter since April 29 and has only given up two hits since June 8."  I'd say Thatcher is a great move for the Angels and perhaps the best pitching move they have made so far.
With Kohn and Roth being optioned to AAA, the Angels bullpen now consists of Grilli, Jepsen, Thatcher, Morin, and Salas with closer Joe Smith.  Their starting rotation is a bit muddled with the return of Skaggs adding to Wilson, Weaver, Richards, Santiago, and Shoemaker.  It would certainly make sense to drop Santiago from the starting rotation as he has proved this season that he doesn't have the endurance (yet?) to be a starter.  Where would he go?  Perhaps he'd make a great addition to the bullpen?  Or perhaps he'll head to Salt Lake to get more starting experience?
I don't think the A's will make any more pitching trades and it's unclear if the Angels will.  Rumors are still flying about Hudson Street and Joaquin Benoit either heading to the Angels or Tigers but will the Angels pay the price for either?
Three more weeks to the trade deadline.  Things could still get interesting!