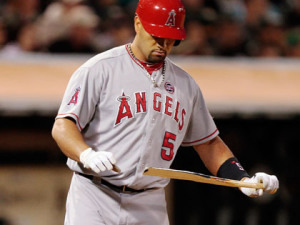 The Angels are broken.  Not completely, but enough to warrant a little concern.  It's a long season, and it's only April, but we clearly have some issues (Aside from Scioscia's questionable managing skills).  I could certainly start with Mike Scioscia and some of the many reasons why I think HE is broken (or perhaps just not that good of a manager in general), but I don't go into that much here.  Remember last year when Raul Ibanez couldn't hit the broad side of barn with a backhoe?  Or how long we had to put up with our nerves every time Ernesto Frieri came into a close game?  Yep.  All Scioscia.  We would easily have won 100+ games last season if Mikey didn't have a tendency to let players outlive their usefulness.
There have been flashes of offensive brilliance this season.  Johnny Giavotella is making everyone forget who the other second base contenders even were in spring training.  Mike Trout is, well, Mike Trout.  Kole Calhoun continues to be one of the most underrated right fielders in the AL and definitely one of the most underpaid players on the Angels Roster.  CJ Cron is starting to smash some balls (though still lacks a home run).  Those four players are the ONLY Halos with more than 10 at bats to bat higher than .220.  We need some offensive output and we need it now.
One thing Jerry Dipito did well in the off season (since he opted for not signing any big names), was to build depth on the entire roster.  Pitching and offense-wise, we have a MUCH deeper roster than last year, and our AAA team is one of the best in the league as far as talent goes.  Sure Dipoto made some questionable acquisitions in the off season (like Drew Butera and Matt Joyce), but overall he did a good job.  No one is perfect.
NOTE: Albert Pujols and Eric Aybar are also currently broken.  However, I think they will come around and given their history, experience and defensive skills, I don't think they are going anywhere, nor should they.
Catcher
Nothing sends fear into the heart of opposing pitchers like the words (due up next: Chris Iannetta).  It's unlikely Iannetta will be sitting much any time soon, but I'd love to see Drew Butera do a chair shuffle with Carlos Perez who is currently raking in AAA (.373/.413/.593) and has two home runs.  Will those stats translate to the big leagues?  Who knows?  But when your current catching tandem is 7 for 61 and your starter is batting .100 – can it hurt?  Definitely not.  Not to mention, Perez looked good in spring training and he deserves a chance.  Jett Bandy has also been doing pretty great but he's probably not quite ready for prime time.
FIX:  Bring up Carlos Perez.  Give him more at bats.  Watch the magic.
Left Field
The Angels have some of the worst offensive numbers of any team when it comes to the left field position.  This was supposed to be Josh Hamilton (at least before this season), but he is gone.  Matt Joyce has been a disaster (and he makes 5 million!) and Collin Cowgill is batting almost as bad at .184.  Grant Green has already been called up and he can play pretty much anywhere.  He has a better bat than Cowgill and Joyce.  Maybe he won't hit .300+ but it's highly likely he'll bat in the upper 200 range.
FIX: Give Grant Green most of the at bats in Left field.
Third Base
David Freese is on the bubble.  He DOES have 4 home runs, but he's also hitting .216 and is not the best defensive third baseman.  I don't see him going anywhere this season, but we do have a good option in Kyle Kubitza who is also raking in AAA with a .978 OPS.
FIX:  Call up Kubitza – send down Joyce or Cowgill.  Give Kubitza a shot!
I would much rather see a lineup that looks more like this:
Kole Calhoun
Mike Trout
Albert Pujols
Carlos Perez
Kyle Kubitza
CJ Cron
Eric Aybar
Grant Green
Johny Giavotella
That is a lineup I'd certainly feel a lot of comfortable with.  Much of this isn't going to happen – at least not any time soon.  Scioscia has a penchant for starting veterans over well performing rookies.  I don't think being a veteran automatically keeps you on the roster.  This is the big leagues and you need to fight for your job.  Iannetta, Freese, even Aybar need to earn their roster spots or they should be given to someone who does.