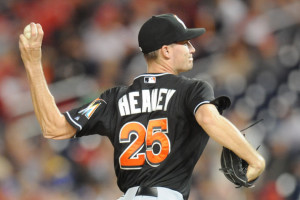 Angels pitchers and catchers report tomorrow.  Finally!  It's the start of the 2015 baseball season and I am ready for it.  There certainly are a few question marks in a mostly unchanged Angels lineup, including:
Will Josh Hamilton be anywhere NEAR his prediction of a .300/30HR/100 RBI season? (nope)
Who will play second base? (more on that soon)
Who will win the 5th spot in the Angels rotation?
Today, let's look at the third unknown on this list – who will win that 5th rotation spot?
The Angels rotation will likely look like:
Jered Weaver
Garrett Richards
CJ Wilson
Matt Shoemaker
Hector Santiago, Nick Tropeano, or Sean Andrew Heaney
Questions about Richards recovery aside (he is doing great so far), and which version of CJ Wilson will we get in 2015, the Angels rotation is looking to be in decent shape this year.  Let's take a look at the contenders for that 5 spot.
Hector Santiago
I wrote about Santiago a few times last season and have been less than impressed with his starting ability.  Santiago falls apart rapidly after the 5th inning and does not seem to be able to face batters a second, and especially a third time around.  He has the physical skills but overall seems to lack the mental aspect of being a strong starter that can go the distance.  His velocity has also dropped 1 MPH / per year as his innings pitched have increased over the past 3 years.  I like Santiago in the bullpen but not for a first pitch.
Starter Grade: C-
Nick Tropeano
Once a top 15 prospect in the Astros organization (he was since dropped from the top listing), The Angels apparently saw something in him.  Known for a killer changeup, he is relatively untested in the majors with 21 innings pitched and less than impressive stats.  He did manage a .99 WHIP in the hitter friendly Pacific League last season so holds some promise.
Starter Grade: C-
Andrew Heaney
Personally, I think Heaney has the best shot at that 5th spot.  When you trade away a player like Howie Kendrick for a pitcher, you gotta bet that the Angels feel the same way about Heaney.  His major league debut last year was far from stellar, however, with 29 innings pitched and a 5.83 ERA.  Pretty much everyone expects Heaney to make the starting rotation at some point in 2015, and my bet is in April.
Starter Grade: B-