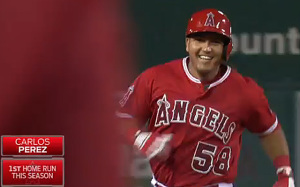 Newly called up Carlos Perez made history last night by being only the FOURTH player in MLB History to hit a walk off home run in his debut.  Not only that, but he laced a nice hit up the middle in his first at bat.  That's what I call a debut!
I have been saying all season that we have some great talent in AAA and one of the cures for our offensive woes is calling up the likes of Carlos Perez.  He sure didn't disappoint.
A few questions:
How much will he play? (My guess is he doesn't even start tonight – Scioscia will go back to Iannetta – yes I have that little faith in Scioscia)
Will he replace Iannatta as our primary catcher this season?  If so – when?
To stress how bad of a season Chris Iannetta has been having, Perez made a bigger splash in one game than Iannetta has all season.  
In one game Perez has:
More homeruns that Iannetta
Equal number of RBIs to Iannetta
1/3 of Iannetta's total hits for the season
Perez is dynamic.  He has a great swing and and is well composed out there.  Can't wait to see what he can do in 2015!
Put him in coach!