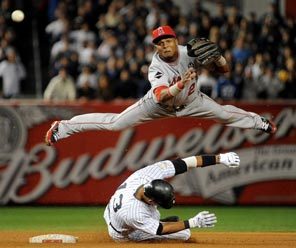 Every Angels fan wants to know: Who is going to turn all those double plays with Eric Aybar this year?  Aybar and Howie Kendrick had been together in some way or form since they came to the Angels organization in 2002 and have been turning double plays for the better part of 7 or 8 years.  While Kendrick goes to the Dodger to work with a veteran double play partner in Jimmy Rollins, Aybar will have to work with young blood, which is not necessarily a bad problem since the Angels have 4 players eager to prove their worth and surely they will all be working hard to be there on opening day.  For their part, the Angels will be working out  Josh Rutledge, Johnny Giavotella, Grant Green and Taylor Featherston to see who can best fit the bill.
Josh Rutledge
Rutledge played in 105 games for the Rockies in 2014 and posted a .269/.323/.386 slashline.  He hit a bit over .300 vs left handed pitching.  Rutledge had a .961 FPCT at shortstop and .963 at second base.  He also had a 79.6% contact rate when swinging at all pitches and swung at 31.5% of pitches outside the strike zone.
Starting Probability: 75%
Johnny Giavotella
Giavotella has more limited big league playing time and has been in and out of AAA the past 3 years with the Royals.  His AAA slashline in 2014 was .308/.373/.440.  He is not as quick or well-honed as Rutledge when it come to fielding.  He is, however, a bit more disciplined at the plate with a 25.9% out of zone swing rate and 84.5% overall contact rate.
Starting Probability: 50%
Grant Green
Green has the most history with the Angels and has already worked with Aybar in game.  He even filled in for Aybar at SS on a rare day off.  in 2014 he missed some time due to injury and put up a .333/.379/.525 in AAA and .273/.282/.354 in the majors.  He fielding skills on paper look more like Giavotella than Rutledge though he seemed MUCH improved last season and seems to make a lot fewer errors than either of the previously mentioned guys with a .980 FPCT in 412 innings last year.
Starting Probability: 70%
Taylor Featherston 
Featherston is the "rookiest" of the bunch and hasn't even seen one game higher than AA.  I won't go into his limited stats much because he's highly unlikely to start the season on the 25 man roster.  He has a bit more power and a great potential upside, but he just isn't there yet.
Starting Probability: 5%