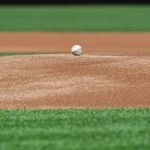 Yeah it's early and a lot can happen between now and February, but many are wondering – what will the Angels pitching staff look like in 2015?
First, the staff will be without Kyle Skaggs who will the entire 2015 season due to that pesky Tommy John surgery.
Let's look at all the pitchers who started a game for the Angels in 2014 (in order of most starts):
Jered Weaver
CJ Wilson
Garrett Richards
Hector Santiago
Matt Shoemaker
Tyler Skaggs
Cory Rasmus
Wade Leblanc
We've already eliminated Tyker Skaggs.  Wade LeBlanc is a free agent and it's unclear if the Angels will re-sign him, though they probably will if he doesn't want too much money.  It's also unclear if Cory Rasmus will be converted to a starter, though I would hope he will be and it will definitely give the Angels some more starter flexibility.  With Rasmus as a starter it frees up someone else to head to the pen (like Santiago or LeBanc)
One ting that is very likely is that Dipoto will not go after any big name pitchers.  The team has a pretty high salary that is pushing against the luxury tax cap.  Not only that, we probably have enough to get us through the season.
Assuming LeBlanc and Wilson stay (everyone wants him gone but I think he will likely be around one more year), I see a potential 5 looking like this:
Weaver, Wilson, Richards, Shoemaker, Rasmus.  The other contenders would be LeBlanc and Santiago who may duke it out in spring training for pitcher #6 and pitcher #5 until Richards comes back which may not be at the start of the season.
Drew Rucinski could be a wildcard.  Although he didn't start a game for the Angels, he did start 26 of them in AA and put up some pretty good numbers.  He may likely get a spring training invite to see what he can do.
A final wildcard comes in the form of lefty Nate Smith who pitched for Arkansas in 2014, and if he puts up a good show in the Arizona Fall League, could also get a spring training invite.
I don't think the Angels have to go out and get a pitcher in the off season unless we swap CJ Wilson for somebody.  In reality we have 8 or 9 potential starters and we just need 5 of them.
In regards to the bullpen we have:
Cory Rasmus
Joe Smith
Kevin Jepsen
Mike Morin
Fernando Salas
Jason Grilli
Huston Street
Cam Bedrosian
Yoslan Herrera
Vinnie Pestono
Joe Thatcher
Jairo Diaz
Michael Roth
There are a lot of moving pieces here, including the need for Huston Street and his 2015 contract option, Jason Grilli is a free agent who may want to move back to a closer role, Joe Thatcher is a free agent, and Michael Roth is also a potential starting pitcher.
It's probably we will see Street in 2015 but not Grilli.  Personally I'd like to say Thatcher should be left to fly the coup and Bedrosian and Herrera shouldn't be on the roster unless they are amazing in spring training (should they go).
Again, I don't see much of a need to go get any more pitching even if we lose Grilli.  There are leftover starting pitcher than can certainly fill his role in bullpen.
Dipoto does some really crazy moves at times so we'll see what route he goes, but I don't think a whole lot will change on our pitching staff for 2015.