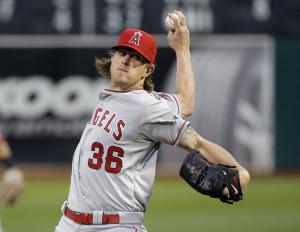 Many bloggers, fans, etc., have already commented multiple times this season that Jered Weaver is broken.   His velocity is down, again, but is he REALLY broken?
Last night, Weaver gave up 5 runs in the first inning but then was pretty flawless (retiring 12 in a row at one point) after that, save for a home run in the 6th inning.
In five starts, Weaver is 0-3 with 29.1 IP, 19 ER, 6 HR and only 4 walks.  The 4 walks number looks pretty awesome, but what good is not walking people if you are giving up home runs and hits instead?  Weaver's WHIP is a non-so-ace-like 1.33 and his BAA is higher than most of the Angels offense is hitting at .289.
Since 2012, Weaver has lost an average of 2MPH on his velocity which now has him at 84MPH down from 88MPH.  Velocity isn't everything though, but it IS a big part of it.  Weaver is a smart pitcher and accuracy and brains can definitely make up for a drop in speed.  Let's take a look at what happened last night in that first inning (the only one that really mattered).
Sam Fuld – Flyout
Marcus Semien – Single
Weaver really only put one pitch in the zone and it was a called strike.  The ball that Semien hit was low and out of the zone (on the edge at best).  It was, however, a non quite 84 MPH changeup.  Note that 84 is not really much of a changeup since his fastest pitch that at bat was 86.7.
Stephen Vogt – Single
Only two pitches to Vogt.  The one he hit was an 84MPH changeup right up at about waist height and right on the edge of the zone.
Billy Butler – Hit by Pitch
Butler was hit by his first pitch – an 82MPH changeup.  He is a big target though, and at least it was an 99MPH Yordano Ventura pitch.
Ike Davis – Pop out
Josh Reddick – Single
Weaver hung a 70MPH curveball right over the plate on his first pitch to Reddick.  Pretty sure I could have hit that juiceball.  Semien & Vogt score.
A's 2 – Angels 2
Brett Lawrie – Home run
First pitch was an 86MPH cutter right up in the zone and right in the middle.  Weaver couldn't have put that pitch in a worse spot and he paid the price.
A's 5 – Angels 2
Eric Sogard – Flyout
Summary?  Weaver's velocity wasn't as big of an issue as his location in this first inning.  Semien's hit was possibly the only exception where he took that low changeup for a single.  Vogt's pitch was not in a great location, nor was Butler's (obviously).  Both Reddick's single and Lawrie's home run were in GREAT spots to hit.
So, is Weaver broken?  First, I don't think his velocity is as much of an issue as some think it is.  Concerning, yes, but his location in that first inning is the bigger reason why we lost.  Weaver adjusted and didn't make the same mistakes (much) through the next 6 innings.  The A's were jumping on his pitches early and despite the A's plating 5 runs in the first, they did it on only 19 Weaver pitches.
Jered Weaver is definitely no longer our ace.  He's not a #1 rotation spot guy.  If we make it to the playoffs again this season (and I say if because of the bad signs I'm seeing so far in April), I hope Scioscia is smart enough to throw Richards in that #1 spot and drop Weaver to 3 or 4.
Weaver is only 32 years old.  He's a smart pitcher and he will adjust.  I don't think he will have an amazing year but I'm not sold that he's finished.  I predict something like a 10-10 record with a 4.50 ERA when all is said and done.