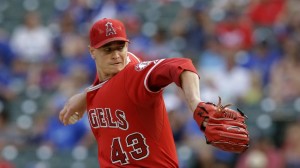 Richards was brilliant last night.  There is a reason I moved him up in the power rankings last week.  Despite what looked like not so great pitching – this kid still has his stuff, and now he has his first career shutout.  I have to admit, I thought he was finished after the 8th inning and during the commercial break I was contemplating who would pitch the 9th.  It was pretty excited to see him go back out on the mound, even if Street was in the pen "just in case".
The Dodgers are not a weak hitting team and they even loaded the bases early on Richards.  A tough situation that he pitched his way out of.  Giving up only 3 hits though 7 innings, Richards ended the game with 9 strikeouts, 5 hits, and 2 walks.  His slider was deadly.  He threw 47 of them with about a 25% whiff rate.  He only gave up 1 hit on his sliders in 47 pitches and 1 hit on his fastball with 46 pitches
Nicely done Richards!