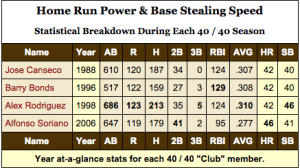 In major league baseball, the 40-40 club is an elite group of only 4 people. Only 4 people in the history of baseball have ever hit 40 home runs and stolen 40 bases in the same season. It's important to note, that three of those four (Jose Canseco, Barry Bonds, and Alex Rodriguez) are all known steroid users which leaves possibly only Alfonso Soriano as the only "legitimate" member of that group, further proving how difficult entry is.
Can Mike Trout join that club? He certainly has the tools to make a run at it, and even has a shot this year, though he needs to get busy on the bases.  In fact, it's base stealing that holds Trout back most.  He stole 49 bases his rookie year and 33 in his sophomore effort, so he certainly has the ability to swipe 40.  Unfortunately, he only has 7 stolen bases in 2015 which would land him at only 28 on the season at his current pace.  Trout has also yet to hit 40 home runs in a season, but he is on pace for 44 this year with 11 dingers through 40 games.  ZiPS and Steamer projections don't even have Trout reaching 30 in EITHER category for 2015.
At the very least, he is quite capable of being a multiple year 30-30 club member of which there are only about a dozen.  It's quite the accomplishment to even hit the 30-30 club ONCE with 37 all time members, and Trout did it his rookie season.  Still, it would be quite awesome, and not too unlikley for Trout to join the even more elite 40-40 group.  Can he do it?