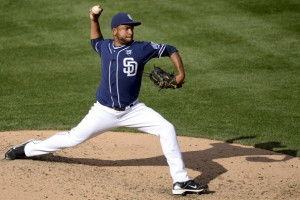 Last night I had the pleasure of attending a pretty exciting baseball game in San Diego and sitting a mere 100′ or so from home plate.  Odrisamer Despaigne of the Padres tossed a 7 inning, 100 pitch gem with a career high 9 strikeouts.
We expected to see some offense since the Brewers are no slugs when it comes to producing runs (2nd in the NL).  Despite that, Despaigne manged to hold the Brewers to just 2 runs (only 1 earned).  All of the productive offense in this game happened in the last 4 innings with both the Brewers and Padres putting up runs in the 7th frame.
The Padres tied up the game in the bottom of the 9th when Francisco Rodriguez gave up a solo shot to Rene Rivera. Rodriguez started out the season on a tear by being perfect in his first 14 save opportunities.  Since May 11th he has now blown 5.
The Padres did manage to win the game after a Rene Rivera ground ball up the middle scored Yasmani Grandal in the bottom of the 10th.  That made Rivera a double here for the lackluster Padres offense.
Despaigne is only in his first season after arriving from Cuba and so far looks to be making waves.  The Padres have perhaps one of the top 3 pitching staffs in the NL despite giving up closer Houston Street to the Angels.
Now if only they could do something about that pesky last place offense.