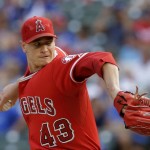 Tonight at the Big A could very well be quite the pitching battle.  A possible playoff preview.  Weaver has been pitching well (only 6 earned runs in his last 4 starts with 18 Ks and 5 walks in 23 innings), Wilson will be back soon (and hopefully in fine form), but the Angels Ace spot still lies with Richards who matched up tonight with the reigning Cy Young Award winner.
Below is a traditional stat comparison.
| | | | | | |
| --- | --- | --- | --- | --- | --- |
| | Record | ERA | IP | SO | WHIP |
| Scherzer | 11-3 | 3.34 | 132 | 150 | 1.20 |
| Richards | 11-2 | 2.47 | 131 | 134 | 1.03 |
Two things immediately jump out – Scherzer has a much higher strikeout rate and Richards gives up less walks and hits in general.
The Angels are right in the middle when it comes to team strike out rates and the Tigers are near the bottom.
Both pitchers Home v. Away stats as well as left v. right are not that significantly different  and both of them sport ERAs well below 2 for the month of July.  Scherzer does give up about 1 home run per 9 inning game (to Richards one home run per 4 games) and the Angels have a heavy home run hitting team (especially with Cron back in the lineup).
I'm going to go Angels by two runs.  They have been hot lately and Puljos and Trout are on a tear coupled with the best home record in baseball + the Angels have owned the  Tigers lately in Anaheim (34-9 and 6-0 over the past 6 matchups there)
You take this pitching matchup and throw in the leading two AL MVP candidates of the past two years and this is going to be one game to watch for sure.