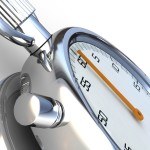 The independent Atlantic league has made some rule changes to speed up their games.  Some reasonable and some just plain strange.  The question is – which if any of these rules could MLB potentially adopt?  The game is getting longer for sure.
The average time to complete a nine-inning game in the 1970s — not including on-field delays — was two hours and 30 minutes. That increased to an average of 2:57 in the 10-year span from 2000-09. Through Thursday, this year's league average was 2:51, according to the Elias Sports Bureau.
In that same article, Bud Selig mentions that it's the pace of the game – not the length of the game that matters and I tend to agree with that.  There probably are some things that can be done to speed up the pace a little bit.
Summary of Atlantic League rule changes:
Only three timeouts per game for mount visits and those will be limited to 45 seconds.  Violation penalty will be a ball for the batter.
Catchers automatically receive substitute runners when they reach base so they can be ready to go when they are back in the field.
Reduce number of warm up pitches from 8 to 6 within 60 seconds.
Automatic awarding of intentional walk without need to throw all four balls
Umpires be more diligent in enforcing batters to limit stepping out of the box and time between pitches as well as pitchers delivering the ball within 12 seconds when bases are empty.
Umpires will control pace of play and limit excessive delays by players as well as enforcing MLB defined strike zone to speed up at bats.
My Thoughts on these rules in MLB:
This would be a great change and most of those mound visits are really not that necessary.
This is just plain silly and I don't think MLB would ever adopt it.  How often does this slow down a game anyway?
This seems very reasonable.
I love this rule.  Why throw those 4 pitches anyway?  Take your base!
This seems pretty reasonable as well.  Get in the box and hit.  Sure step back once in a while when you need to regroup but that's about it.
Also seems very reasonable.
I'd be surprised if MLB won't at least consider some of these rules.  We'll see how it all shakes out!