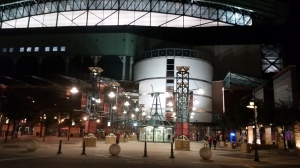 Our last stadium visit of 2015 would take us to Chase Field, home of the Arizona Diamondbacks on the last weekend of the regular season.  We settled in to the Hotel San Carlos partly because of it's long history (Marilyn Monroe used to stay there), party because it was supposed to be haunted (much to our chagrin, not so much as a strange noise was heard), and finally because it was within walking distance of the stadium.
We had the fortune of making a side trip to Macfarlane Toys, who make some pretty awesome collectibles.  Macfarlane makes all sorts of good stuff, including a lot of sports collectible figures (I have a few of their Mike Trout one).
October in Phoenix can still be quite hot, and the mercury hit 88 as we made our way for 8 blocks through the downtown streets toward what looks more like a large warehouse or an airplane hanger from the outside, and not so much like a stadium.
While we chose to walk, there is also a light rail stop that drops you off one block from the stadium and parking seemed plentiful (and around $20).
The game we chose was their annual hispanic heritage day, and we bypassed the outdoor street party to go inside and assure we received out limited giveaway which was a cool soccer-style Los D-Backs jersey.  After picking up the jersey, we went back outside (after getting a hand stamp) and enjoyed some entertainment and street food – the Sinola hotdogs were delicious!  It was super easy to get back in the stadium, so Chase field gets high marks on their re-entry process which is called "Pass-Out".

Chase field may not look much like a baseball stadium from certain angles on the outside, but once you get venture inside, it's unmistakably home to a beautiful baseball field.  Due to the near 90 degrees before the game, the roof was closed and the AC was on, making the temperature very pleasant.  They would open the roof shortly before the game started, allowing the fresh desert air to make it's way inside.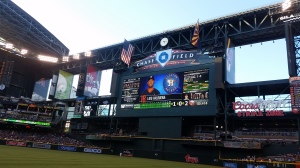 Being fans of the sudsy beverage called beer, we quickly discovered the Draft Room in right center field that had tons of craft beer on tape for only $7.50 and you can get it to go. 
Food options were pretty varied and include bacon wrapped hot dogs, chicken & waffles, churro dog, 18″ corn dog, jalapeno poppers, and much more.  The stadium had plenty of beer, but best selection and price we found was at the Draft Room.
The stadium entertainment was pretty solid.  A nice large scoreboard and good sound system made the in-game entertainment fun and easy to follow.  The bathrooms were clean and plentiful which is always a plus.
If you have extra time, be sure and check out the Diamondbacks museum (free entry).  They have trophies, jerseys, game used balls, etc.  You'll find it in the outside area of the stadium near home plate.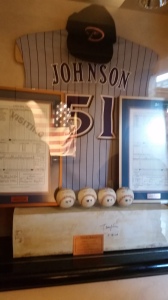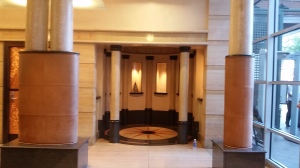 Fans were pretty mellow and the stadium was almost eerily quiet unless the scoreboard instructed them to get loud or make some noise. Perhaps the hot desert air was tiring and people just wanted to relax at the game.
Being an Angels fan, this game has special significance since an Astros loss would possibly help the Angels get into the playoffs.  It started out pretty slow with only 1 run scored by the visiting Astros in the first 3 innings.  By the end of 5 it was 3-0 Astros and the Diamondbacks were looking dull.  The Astros would end up winning the game 6-3 with 3 homeruns.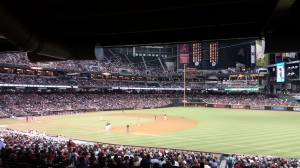 We enjoyed the game from the front row of section 112 and it was a great view.  The proximately to the field allowed us to see the Astros bullpen catcher, Javier Bracamonte, signing balls and chatting with fans on his way back to the clubhouse.  He pretty much gave away everything in his large bullpen bag.  I was wearing an Angels jersey and he commented on his way out "Aren't you at the wrong stadium?"
We cleared out after this and while fans were flowing down the stairs to watch the postgame concert.  There were 37,000 fans, but getting out of this stadium was  not hard and didn't take long.  The Astros had won, but we had a good time at our last stadium stop of of the year.  Until next time…