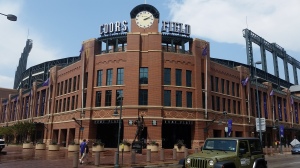 I'm not sure the exact numbers, but it seems the Rockies have had their fair share of rainouts in 2015. So many in fact, that they even caused a rare rainout at Petco Park over the summer. We would know, since we were at that ill-fated game. Okay, so maybe it wasn't their fault, but if you can't blame the visiting team, then who can you blame?
By some stroke of luck (bad or good – you choose), we saw the Rockies play all over the West coast during our 2015 stadium trips. Petco Park, AT&T Park, Dodger Stadium, and now in their very own actual home field!
Colorado boasts 300 days of sunshine per year, yet a rain deluge hit us outside the stadium a couple hours before the run deluge inside the stadium.  During our tour of the stadium exterior, we found a fun little baseball diamond in the masonry near the left field gate, and a fun artsy gate bearing sport balls from your sport of choice – billiards anyone?  Coors field is fun to look at from the outside and though it was built in 1995, it's old fashion brick facade gives it an older feel and allows it to bette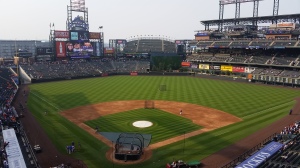 r blend into the surrounding area.  The Rockies also have a nice tribute statue in front of the stadium, as many ballparks do.  However, since the Rockies are an expansion team with no players worthy of their own actual statue (apologies to.. oh hell, apologies to no one), their statue is just called "The Player".
After getting pre-liquored up at the nearby (and highly recommended) Tap XIV, which boasts tons of great Colorado beers in a rooftop setting along with cornhole on fake grass, we lined up at the gates early so we could get our hands on a CarGo Fett Star Wars night bobblehead. The crowd was large, and the famous 7 Line Army of Mets fans were in their orange full effect everywhere. It would be a good day for those fans (oops – spoilers).
We didn't have car so we didn't have to deal with traffic or parking issues but they didn't seem to really exist.  If you are the train type, Central Station is just a few blocks from the stadium.  The stadium parking lot (which has a shuttles) costs only $15-$17.  Note that we able to bring in water in non-sealed containers.  All stadiums have different policies on beverages but many of them require them to be sealed.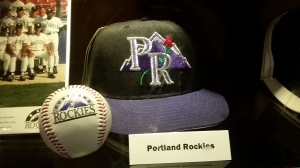 The stadium is nice and open and looks good (also has a great old fashioned looking brick facade on the exterior).  Great scoreboard and sound system. They also have a pretty cool history section in the club level if you managed to score tickets there. Before the game we were even treated to a costumed parade around the field as all the fans who showed up in Star Wars attire got to walk all the way around the dirt track.
It got chilly when the sun went down but we came prepared with layers.  If you show up before the 1st pitch, you can also get $6 craft beers and $3 Coors Lights  at the "Rooftop".  Craft beer options were somewhat limited but they did have some, including clever Coors owned off-brand beer names.
While in Colorado, you should probably try the Buffalo Testicles.  They were actually pretty good!
We took a break to walk around and thanks to our impeccable timing, the Team Store had left over All Star Merchandise from Cincinnati and we managed to snag jerseys for $20 and tshirts for only $5!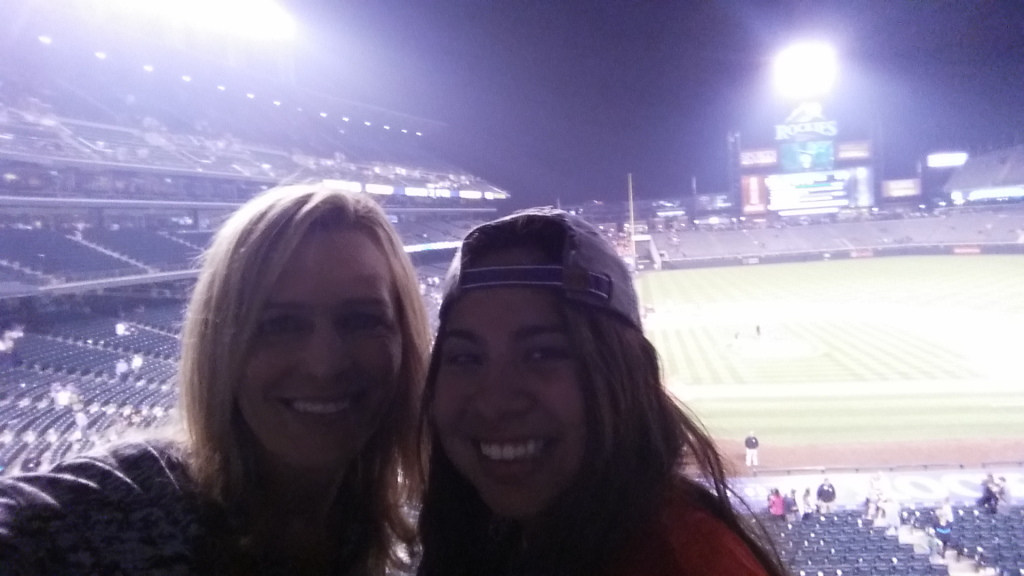 Oh, and the game?  It was Coors field so of course we were treated with a slug fest and a total of 34 hits and 23 runs kept things from getting boring.  The 8 run 3rd innings lasted 22 minutes.  The Mets came out the victor and the local fields went home sad, but the Seven Line Army (who was very loud and noticeable the whole game), went home with a smile.