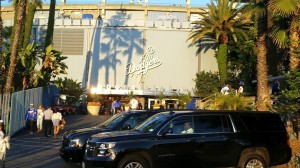 Stadium visit #4 brought us up to Los Angeles and Chavez Ravine.  Fortunately, it was a relatively cheap trip since we were able to drive up from San Diego.  However, it also reminded me why I never want to live in LA again – traffic. You will deal with traffic on the way in, on the way out and you just need to accept the fact that waiting will be involved.  There is a reason most Dodger fans leave in the 7th and 8th innings (other than being fair weather fans).
Dodgers Stadium has a very controversial beginning and I'll let you Google that for yourself.   You may want to look it up AFTER you visit the ballpark since it may spoil your taste for the beautiful surroundings.
Scenery, is in fact, one of the best assets of this ballpark, since it is built into a ravine/hillside surrounded by mountains.  The parking lot(s) can be confusing since there are about 80 (slight exaggeration) of them surrounding the stadium and they are all on varying levels of elevation.  It's more like there are a bunch of mini parking lots, rather than one large one and I have a friend get lost there finding her car.  Parking near the stadium is also fairly unlikely unless you pay a premium, so you will have to walk a bit, even for the $20 standard parking rate.  Public transportation options to get here aren't great, but you can take a bus from Union Station and South Bay that drops you off pretty close.
The stadium feels old, despite the upgrades they have done.  For instance, if you walk through the outfield, you are behind the seats so can't see the game until you cross over to the other side.  The Dodgers did widen their walkways recently but it still felt a bit crowded even on a non sell out night.
If you don't go up the elevator to the Top of the Park, you are missing out.  Do it early while there is still sunlight and be amazed by the surrounding beauty.  There is a team store up there as well if you want to pick up a souvenir bat or helmet as I did.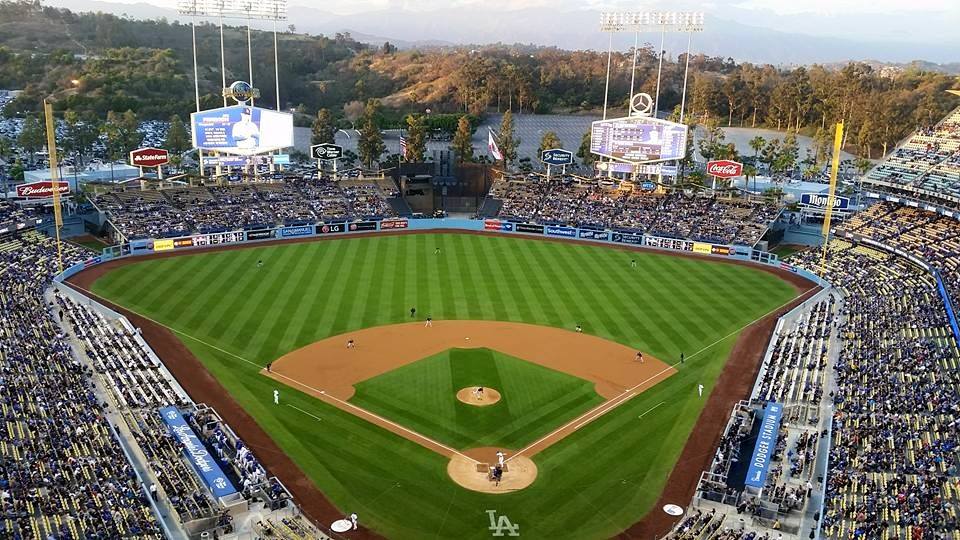 Bathrooms here are a rarity it seems.  Some are tucked away in hidden corners and for the most part, there are not enough of them.  Apparently the Dodgers don't want you to go to the bathroom which kind of defeats the purpose of them wanting to sell you lots of beer.
Food and beer options here are pretty good and I was impressed with the famous "Dodger Dog".  Their Mexican corn was pretty good as well, though not as good as Petco Park.  Beer prices here are ridiculous at $14.50 for a 16 oz craft beer. I guess you pay the price because – Hollywood?  Beer selection is okay here but not amazing.
Along with the recent upgrades, The Dodgers added pretty amazing sound system and scoreboard.  They kept the retro shape and feel but put in spectacular high def boards in left field and right field.
During this game we were able to witness Clayton Kershaw's 100th career win, Jimmy Rollins' 900th RBI, and a Dodger victory.  A pretty cool thing they did after the game was to allow fans on to the field to watch the post game fireworks.  We skipped the fireworks and opted to dodge (get it?) the notorious traffic exiting the stadium which put us on our way back to San Diego in no time.