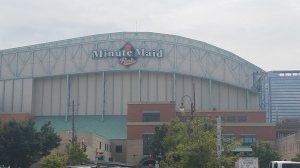 As fortune would have it, Sara had relatives that lived in Houston which made our Texas weekend trip a little bit cheaper.  We had a rental car and drove down to the stadium early enough to catch our planned stadium tour before the game.  There are plenty of lots around, but we arrived early enough to park just a few blocks away at a meter.  Our cost was about $5 – a significant savings from the $20-$25 in the stadium lots!
Like Chase Field, Minute Maid Park has a feel (at least from some angles) on the outside of an airplane hanger or a warehouse.  Not my favorite stadium style.  It is built around the former Union Station so had a pretty cool entrance on that side where we entered for our tour.
The tour was pretty simple but worthwhile.  We started way up in the nosebleed seats near the left field foul pole and our guide told us some cool history of the stadium, Tal's Hill, the ginormous scoreboard, etc.  From there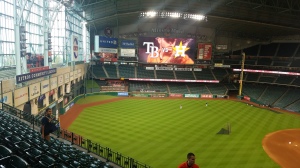 he walked us through the club level so we got to see some team history and we ended up in the seats behind home plate to watch some batting practice.  I'd say it's a worthwhile tour, especially if you are a fan of either team playing since you might also have a chance at an autograph during BP.  We also learned that the flag pole is in play in Center Field to pay homage to Forbes Field where the Pirates used to play (they had a flag pole in play there).
Another unexpected perk of the tour was that it was Jose Altuve bobblehead day and many people were waiting in long lines to enter the stadium.  We jumped right in thanks to the tour and got our bobbleheads with no wait.  And added bonus was that the tour dumped us off at the end right by one of the entrances but before they handed out bobbleheads so we all got another bonus round of Jose Altuve.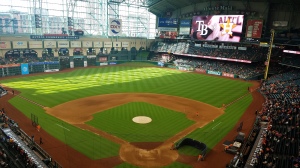 Unfortunately, the roof was closed.  No doubt it was a hot day, but first pitch wasn't until 6:11.  I'm not a fan of closed in stadiums and this made Minute Maid Park feel like a smaller version of Chase Field (though they at least opened their roof for game time).  The big wall of windows in the outfield helped, but the stadium still felt too closed off for my tastes.
The good news is they have some great food and beer options here.  Out near left field they have some good local beer (St. Arnold), as well us up in section 405 which had St. Arnold as well, but added other options.  For $10 you get a 20oz craft beer here.
Minute Maid Park had tons of great food options including one of our now ballpark favorites – the Chicken Waffle Cone.  It's a must try if you are a chicken and waffles fan.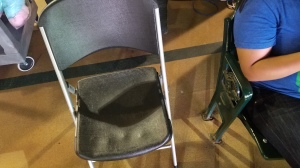 If you've ever used the "At the Ballpark" app, you'll know you can do in game seat and experience upgrades.  In this case we decided to upgrade from our nosebleed seats to something field level.  When we arrived, the usher said "hold on".  Basically they sold us handicap seats and had to bring in a folding chair.  Not exactly what I expected for an "upgrade" since it also partially obstructed our view of the scoreboards.  We field a complaint and they DID give us the money back for the upgrade.
Other than the roof being closed and sitting in a folding chair, the game experience was pretty fun.  I'm fan of mascots and Orbit is one of my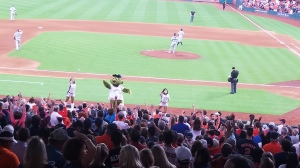 favorites.  You can even buy an ice cream helmet but the helmet is Orbit.  Check it out if you are a fan of the furry green dude.
If you lose yourself in the game and forget where you are, the 7th inning stretch will remind you when the stadium comes alive to "Deep in the Heart of Texas".
The game ended well if you are an Astros fan.  Dallas Kuechel got the win and the Astros scored 6 runs to the Rays 2.