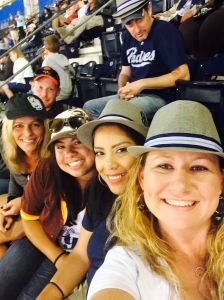 Week one of our baseball tour saw us going to three different stadiums.  Being a resident of San Diego, I have been to Petco Park many times before – however, this time is when it "officially" counted as stadium visit #2 of 30.
Of course the weather was perfect and no rain was in sight.  The roof was open – as it always is.  I mean come on, who is going to put a roof on a stadium in America's Finest City?  Sorry Seattle – I'll take San Diego ballpark weather any day.
Game time temperature was 67 degrees.  A bit of a warning though – early in the season the temp can drop fast once the sun sets and the chilly ocean air sets in.  I'd recommend bring layers when you visit Petco just in case.  This may just be a problem for San Diegans who start freezing when the temp drops below 65.
Parking at Petco is about what you'd expect for a downtown ballpark, but it IS cheaper than Safeco and not horrible to find a spot even if you come late.  Opening day prices looked to be about like any other day and range from $10-$25 depend on how close you park.  Note that you CAN find free parking if you are willing to walk 8 or 9 blocks and aren't going to the game during a meter enforcement time.
Petco Park is also conveniently on the light rail line which makes it really easy to get to and from games if you don't want to deal with parking.  It's also significantly cheaper since you can get a round trip fare for $5.
Of course, we experienced another sell out crowd for opening day in San Diego but there is still plenty of room to move around at Petco Park.  Thanks to the perfect climate, Petco offers an incredible open feeling everywhere you go, from the wide walkways on each level to the extra large concourse (K Street) that runs the length of the outfield from 7th to 10th Avenue.  Cool features are everywhere from views of the bay on the third base side of the stadium (upper level), to the "Park at the Park" which is a mini ball field out in center field, to the Western Metal Building in left field which adds to the feeling of the ballpark being built right into the city.  Most of the stadium also boast amazing skyline views and you can even watch incoming planes landing in the distance at Lindberg field.
Petco Park also upgraded their displays and scoreboard this past off season and have an absolutely amazing, ginormous and brilliant HD display now.  Seeing is believing!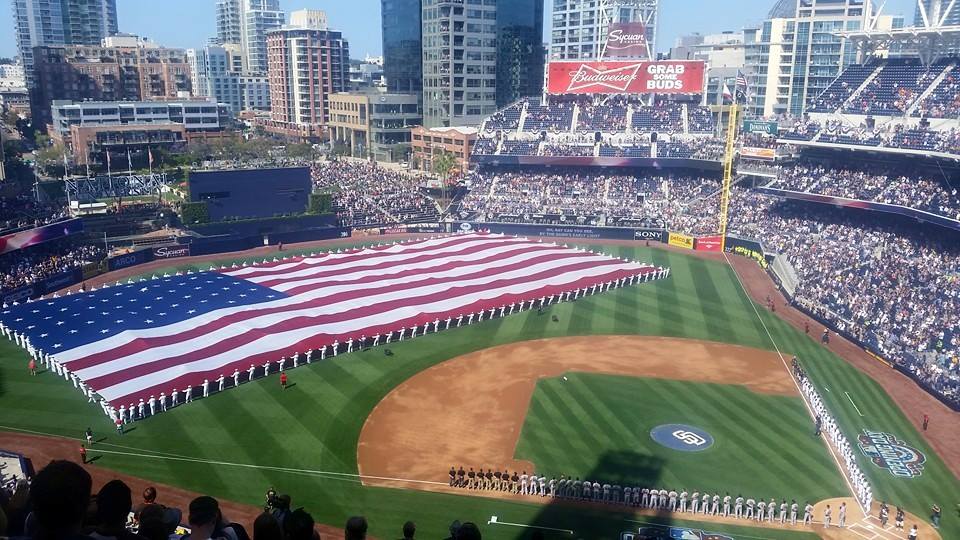 Seating options abound at Petco with the typical options all the way to a grassy general admission picnic like area in center field, to bleachers (cheap seats) and even beach seating up along the center field fence.  Where have you been that you can sit and watch a baseball game with a beer in your hand and your toes in the sand?
If you arrive early and want to try your luck at grabbing a souvenir, you can do this just about anywhere, including left field, center field and all of right field.  The only exception would be a small area near left center which housing the bullpens.
San Diego is a craft beer mecca and the stadium has plenty of options as well.  The best places to grab a craft beer are field level near home plate, but great craft beer stands are found around the ballpark.  A 20 oz craft beer will set you back about $12.  If you want something unique, check out the Patio out in lower left field.
Food is of course, plentiful, and if you are visiting San Diego you will likely be pulled in by Phil's BBQ in the outfield area.  You can't go wrong here if you like BBQ, but other places to check out include Hodads, Lucha Libre, and Pizza Port – all of which are San Diego food staples.  The hot dogs are mostly average and the bacon wrapped friar frank will leave you hungry.
You will find lines in some areas of the ballpark – like Stone Brewing and Hodads, but most of them are not bad.  Also, the bathrooms are plentiful and fairly clean.
This game included a few significant firsts on our tour when it went extra innings (first bonus baseball!), and Will Venable was ejected in the 12th inning after arguing a called third strike, followed by manager Bud Black who stepped into the fray.  Nobody scored for 11 innings, so it's possible this game will also include the longest scoreless inning streak, but time will tell!  Sadly, the Giants pulled off the win in 12 long innings.