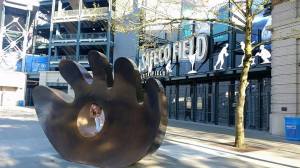 My 30 stadium journey began on April 6th, 2015 at Safeco Field. The weather was forecasted to be cool and possibly rainy, which was not all that exciting for my thin SoCal blood (read: I hate cold). But what did I expect starting the season off in Seattle?? When we arrived at the stadium, the roof was closed, giving an overall dark indoor feeling to the ballpark, despite the stadium not being entirely enclosed. Fortunately, the roof was opened before the game began, giving a much more open and bright feeling. Growing up in Minnesota, home to the now torn down Metrodome, I'm not a big fan of indoor baseball which is how Safeco feels when the "partial" roof is closed.  Baseball should be played outside – are you listening Tampa Bay??
While I'm pretty sure parking prices were jacked up to take advantage of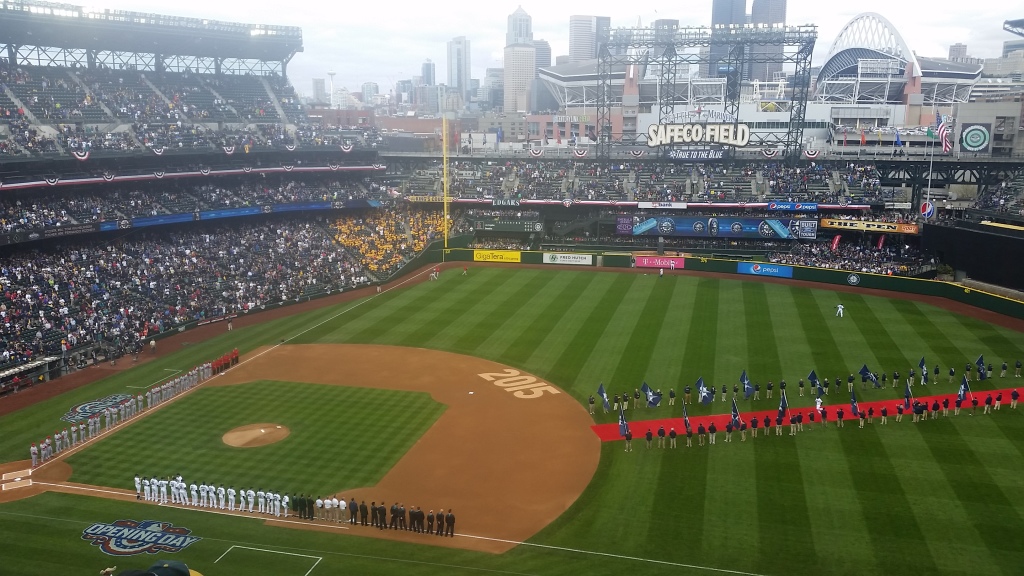 opening day suckers like me, I think $30-$60 is what you could call gouging.  I'm not sure how much parking is on a normal day but this was pretty ridiculous.  There are no trains that go to the field, but there are buses that stop nearby.  No "special" Mariners bus exists, although they used to have a special "Metro to the Mariners" service.  If you are driving, I'd get here early since the Stadium is in a crowded area of Seattle surrounded by water, rail yards and CenturyLink field (home of the Seahawks).  In short – you may have to walk a bit OR bring lots of extra money for parking.
We entered near the first base line and there was hardly any wait to get through the gates (though we did get there 2 hours early to catch batting practice). There are plenty of gates, so I don't think lines would be too horrible if you showed up closer to game time.  We walked around the outside of the stadium to get to the outfield area so I could try and grab some BP home run balls, but I was soon disappointed to learn there really isn't a good spot to do this.  A small section in right center field was decent and right field was open, but center field and left field were basically useless for shagging balls due to multiple bars and the bullpens.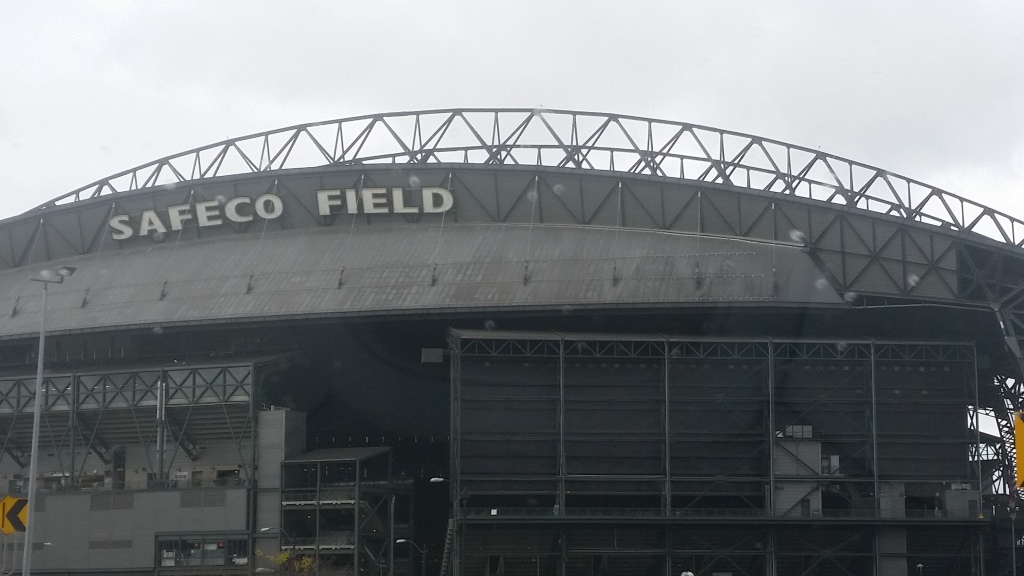 Despite wearing an Angels jersey, I couldn't get a single Angels player to throw up a ball.  Huston Street shagged many balls but never even looked at the stands (jerk.  kidding.  not really).  After a futile attempt to get a foul ball near the left field foul pole, I finally headed over to get some beer and check out the food.  Safeco is definitely a great ballpark for the craft beer lover and they have a bit of everything.  Prices were typical of most ballparks and I had a 16oz craft beer for $10.  If you arrive early, head over the "Pen" in centerfield for $6 beers but this ends one hour before the first pitch and it gets SUPER crowded there.
Unfortunately, I didn't explore all the food at Safeco but I noticed a huge variety of delicious food.  I picked up a grilled seafood sandwich near the Pen which was pretty amazing and worth every penny of the $14 I spent.
We made our way to our nosebleed seats on the first base side which offered great views of the Seattle skyline.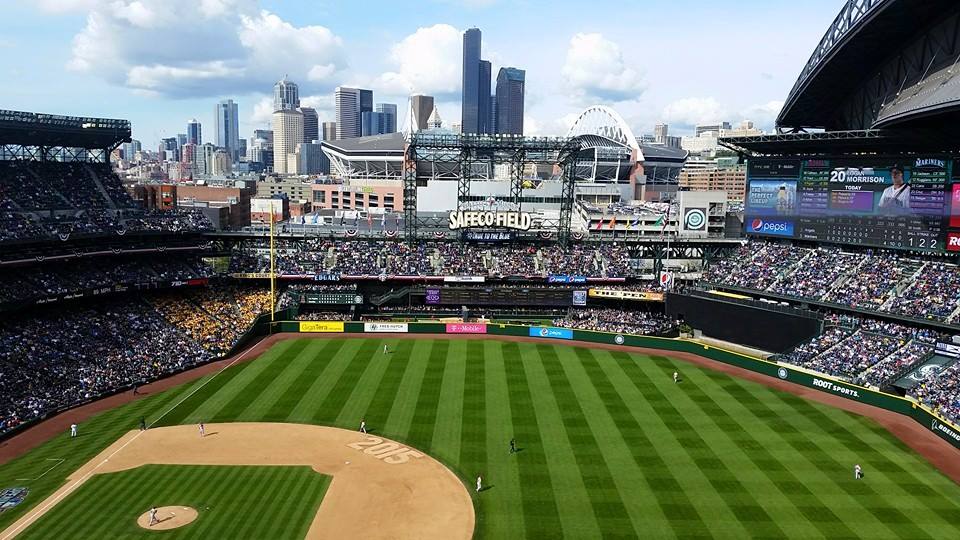 Seating was pretty standard ballpark stuff and nothing of note, aside from the massive retractable roof.  The view of the field is not bad from the 300 level though.
Once the game started, it was quite obvious the fans here are VERY into their team.  A bit too into their team (aka annoying) if you are visiting fan of the other team.  It was loud, lots of cheers, and a very involved fan base. Considering how loud the Seahawks fans are known to get, I've come to the conclusion that Seattle-ites are just loud period.  The sound system and scoreboard were top notch and sounded and looked great.  The scoreboard was actually pretty amazing and even had old-school looking flip-style numbers.
Okay, so it WAS opening day, but I've been to other sold out stadiums and at Safeco there were crowds and lines EVERYWHERE.  It took forever to get anywhere or god forbid, stand in a food line.  Even the bathrooms had pretty constant long lines and there were pretty stinky and dirty.
The game itself was not very remarkable for an Angels fan.  My team failed to deliver on my birthday and lost to King Felix and his team 4-1.  At least Mike Trout hit a homerun in the top of the first and robbed one in the eighth which made the pain of 12 Halo strikeouts a little bit easier to swallow.
Overall, I had a pleasant experience at this stadium.  Great food, great beer, great entertainment system and views.  Bad crowds, parking and bathrooms.  You can't win them all!