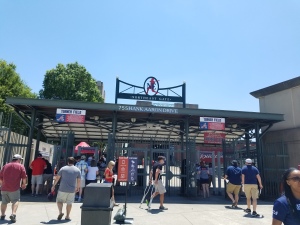 We had originally planned to visit 10 stadiums per year for 3 years, but you know, life gets in the way.  We made our first trek in 2016 to the soon-to-be former home  of the Atlanta Braves as they get ready to move into their new stadium in 2017.
Our schedule for a trip to Atlanta was very limited so we had the brilliant idea to fly our 6 hours after arriving back from a trip to Hawaii at 12AM on a Friday night. The plan was fast forward 3 hours from Hawaii back home, then 3 more hours forward the next morning, followed by 3 hours backward that very same night.  Who thinks a turn and burn same day trip to Atlanta from San Diego is a good idea?  Apparently we did.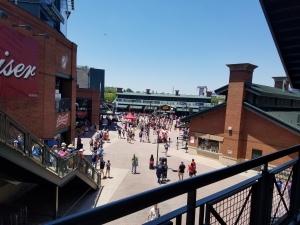 Our Uber dropped us off right near center field around 2PM for a 415PM game start time.  Already throngs of fans were circling, tailgating in the nearby parking lots and beginning to fill up the stadium.  The parking nearby seemed to be around $15 with a few grassy lots set at $10.  Atlanta-Fulton County stadium sat in the lot directly next to the stadium and is painted with the field location and configuration of the old ballpark.  Also of note is the sign marking with Hank Aaron hit his 715th homerun.  In fact, as you would expect, the Braves stadiums is all about Hank Aaron and you will see him everywhere from the street names, to Club 755, to paintings and banners marking his accomplishments.  The Braves are quite proud of Hank Henry Aaron, as they should be.
Our seats were on the club level which was great for the clean, sparsely used restrooms and air conditioning.  Along the walls is painted the story of the Braves along with special accomplishments.  If you want to see the Braves Hall of Fame display, that is on the field level and you have to pay a token for admittance.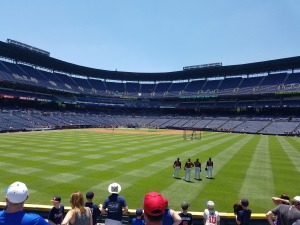 If you are heading to Turner field before they tear it down, you can get there early and shag homeruns balls in all fields (which is a rarity at most fields.  We planted ourselves in center field and didn't get any homerun balls, but did get a toss-up from Julio Teheran.
Expect to wait a bit for team store admittance (something they will likely fix in their new home).  There were long lines throughout the game to enter, though they did move fairly fast.  Inside the stadium is even a specialty store for women call "Team Store for Her".  Yes, it's a very clever name.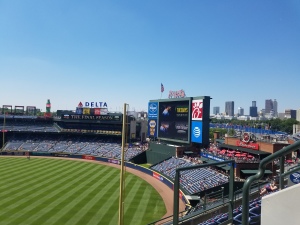 The scoreboard and sound system were okay but probably haven't been upgraded in a while.  Why bother when you are moving to a fancy new pad?
The fans and staff all seemed super friendly here.  I think it's part of that Southern hospitality thing.  There were some pretty good food options, but we tried out the H&F burgers in center field and they were very tasty.  This field is in the south, so you can expect to find chicken and waffles, BBQ, and all the other regular ballpark food options as well.  If you are brave, maybe you should go for the burgerizza which is a giant burger with pizzas for the buns.  You should probably drive youself straight to the ER after that feast.
Craft beer lovers probably won't love the selection at Turner field.  There are a few options, most notably – Sweetwater Brewing, but outside of that Anheuser-Busch pretty much rules the roost, and don't be tricked into thinking Tomahawk is craft beer either, since it's just a dressed up AB beer.
The pre and in game experiences are pretty cool as well and we saw a water balloon toss competition in the center field plaza, a softball homerun derby before the game, and a pretty cool drum corp that marches around the stadium pumping up the fans.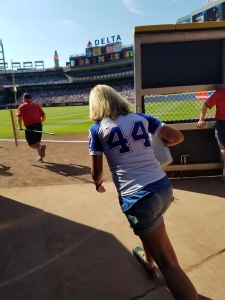 A highlight of the game for me, was Sara surprising me with a cool in game experience called "honorary grounds crew".  She found this through the MLB At Bat app and it allowed me to run on the field after the 3rd inning with the grounds crew, replace first base, and run back.  They gave me a jersey to wear for the occasion and it was definitely a special moment.
All that aside, it was a pretty good game that saw the Braves win their second game in a row and only their 4th home game all season.  They beat up on the Marlins 7-2 with 3-run innings in the 6th and 7th, along with a double and HR by player of the game Gordon Beckham.
We had to bail on the game during the middle of the 8th due to the fact that we had a flight to catch back home.