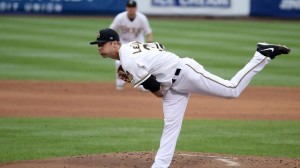 It's official.  Garrett Richards will be out 6-9 months with a torn patellar tendon.  He will undergo surgery next week.  BEST case scenario is he could get a start at the end of spring training 2015.  Worst case is he'll return just after All Star Break.
Brennan Boesch was sent down to AAA Wednesday in anticipation of pitching moves.  Today it was announced that Cam Bedrosian would rejoin the Angels and Left hander Wade LeBlanc would be called up to replace Richards in the rotation.
As previously mentioned here and here, I hate noted LeBlanc as a possible call up for the Halos.  LeBlanc is expected to start Monday against the Marlins.