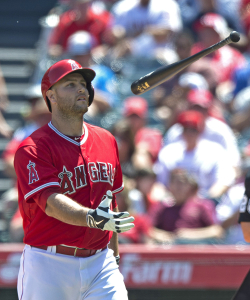 We are three weeks into the season now and the Angels offensive numbers have been pretty, well, offensive. A few games recently have helped those numbers go in the right direction, but let's look where the Angels rank among all 30 teams:
24th in OPS @ .649
23rd in Batting Average @ .227
16th in Runs @ 75
24th in SB @ 6 (Mike Trout has 5)
These numbers looked much worse one week ago before Kole Calhoun and CJ Cron found their groove.  Should we be concerned?  Perhaps.  Will our offense get better?  Most definitely.  Some of the current issues are noted below:
Chris Iannetta .100/.220/.120
No one really expects Iannetta to equal his output of last year, which was pretty much his best pro year and probably an outlier for this career .233 hitter.  He also started slow last year in April but was still batting .190 three weeks into the season and ended April at the .250 mark, and this season his current slashline is just plain atrocious.  Iannetta's advanced batting stats aren't that significant to point to any major problem.  He IS swinging at 2% more of pitches outside of the zone (but making contact at 1% higher rate) and he's swinging at 2% less pitches IN the zone where his contact % is down almost 6 points.  Overall his total contact rate is down just 2% which is not a huge number at this early point in the season.  Currently, he is on pace to have his highest rate of strikeouts in his career (120+).  Iannetta finds himself in a bad spot since this is a contract year and not many would be sad to see him go if these numbers don't dramatically improve.  The Halos have some options to replace him after 2015 (and possibly even later in the year), with Carlos Perez and Jett Bandy waiting in the wings and both off to a hot start in Salt Lake.
Concern level:  HIGH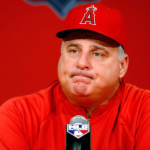 Matt Joyce .140/.180/.193
We are paying Matt Joyce 5 MILLION DOLLARS to be horrible.  This deal, on a smaller scale, reminds me a whole lot of another deal for a left fielder that didn't pan out so well.  Surprisingly Joyce's plate discipline numbers are pretty much up across the board in 2015, and his contact% is 6 points higher than last year in Tampa Bay.  So what gives?  Joyce claims after coming out of his 8 game no hit slump yesterday, that his timing was off.  Oh good!  So he's all fixed now?  Let's not hold our breath.  He hasn't looked comfortable much at the plate this season, but let's see what he can do this week now that he found his "timing".
Concern level: MODERATE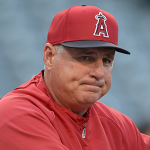 Albert Pujols .200/.291/.371
Pujols, on his way to 500, hit 9 home runs in April last season and batted .280.  So far this April, his measly .200 average is accompanied by only 3 home runs.  However, most of his batting numbers don't look all that concerning.  It's unlikely Pujols is going to bat .300 and hit 40 home runs this year, but I expect he will come around soon and at in the upper end of the 200's with 25-30 round trippers.
Concern level: MINIMAL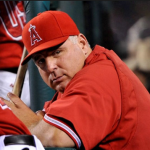 Eric Aybar .203/.276/.217
Aybar is having a rough start to his season.  Perhaps because he missed his double play buddy of so many years?  Aside from not hitting well, he made two rather large blunders against the Rangers Sunday that likely cost us the game.  Like Pujols, Aybar will come around.  Being a few games back in April is no big deal and we'd all much prefer them to get hotter as the season goes on.
Concern level: MINIMAL