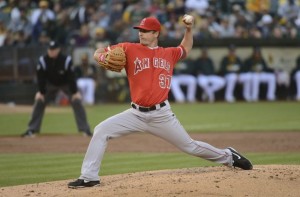 Matt Wade LeBlanc has never been on television though it sounds like he has.  For some reason I want to call him Matt but I'm pretty sure that guy on Friends can't throw a cutter.
LeBlanc was drafted in the second round of the 2006 draft by the Padres.  He went to the Marlins in 2012, the Astros in 2013, and the Yankees briefly in 2014 due to a waiver loss before the Angels signed him.  In short, he's been tossed around like a rag doll and has amassed a mere 424 innings in the majors, mostly with the Padres.
LeBlack throws a fastball (86.2 mph), curve (74 mph), cutter (82.9) mph, and change-up (75.2 mph).  Those are average speeds according to FanGraphs and his fastball certainly is not overwhelming.  His calling card is apparently his change-up that he throws often.
His MLB career stats are not all that impressive with a 20-32 record.  His career ERA is 4.56, WHIP 1.44, K/9 6.04, zero complete games, and a .2 WAR.  In AAA this year, he is 10-3 with a 4.00 ERA, 1.38 WHIP, 8.5 K/9.  His numbers are better, albeit in the minors.
In short, he is nothing too impressive.  The Angels aren't looking to replace Richards.  What they are looking for is a 5th man in the rotation (at least short term) who can pitch 6 innings or so and not give up more than 2-3 runs.  At this point, that would be LeBlanc's measure of success.
And who know, Richard and Shoemaker have been amazing this year and that was completely unexpected. Perhaps LeBlanc will be a surprise.  We can hope.