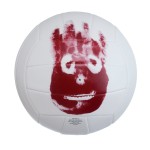 So, I'm pretty sure this volleyball could have pitched a better game last night than CJ Wilson.  2014 has seen a mostly medicore (at best) year from CJ with a couple of flashes of brilliance (notably 5/17 & 9/17) and a whole lot of stinker starts (6 starts not even making it to the 5th inning).  If only we could just have CJ start on dates with "17" in them?  Let's look at CJ's 35 pitch, 12 strike outing from last night by batter number.
First pitch fastball, called strike – low.  Second pitch fastball, single on pitch right over the middle of the plate.
Pitch 1, fastball, strike.  Pitch 2, sinker, ball.  Pitch 3, strike, groundout.  One out.  (so far so good right?)
Pitch one, ball.  Pitch two, strike (but out of the zone).  Pitches 3, 4, 5 – balls.  Walk.  Curveball, cutter, fastball all missed the zone.
Pitch 1 & 2, ball.  Pitch 3 changeup, strike. Pitch 4 & 5, ball.  Walk.  Both curveballs missed the zone.  Bases now loaded.
Pitch 1, sinker, strike.  Pitch 2, 3, 4, 5, balls. RBI Walk.
Pitch 1, strike. Pitches 2, 3, 4, balls.  Pitch 5, ball but popped out.  2 outs. (yay!  We can get out of this with only 1 run scored!)
Walk.  4 straight, not even close pitches.  RBI WALK AGAIN.
Pitch 1, ball.  Pitch 2 strike. Pitch 3 & 4, ball.  Another walk coming??  Pitch 5 strike.  (full count, 2 outs, runners going).  Single.  Two Runs score.
Wilson leaves the game with two runners on base and 4 runs given up.  Freese makes a throwing error to first base on the next batter.  Two runs scores.  Wilson says thanks for nothing Freese.  Freese says you were the one to put them on base in the first place.
In short – Wilson sucked.  He couldn't find the zone and when he did he left it hanging in a great spot to hit.  His curve, slider, and cutter didn't amount to even one strike and he only threw 1 pitched that was whiffed.  With a final score of 4-8, it's pretty clear where we lost the game – in Wilson's first inning.
I don't think Wilson has ever been elite enough of a pitcher to fetch the praise and salary he gets from the Angels.  He pitched pretty great for the Rangers in 2010-2011 and he DID have a great year for the Angels in 2013.  in 2014, Wilson has a 1.46 WHIP and his lowest LOB% since he became a starting pitcher and his lowest WAR since 2008.
The problem facing the Angels and Scioscia right now is that we don't know which CJ Wilson we are going to get in the playoffs.  He has been pretty inconsistent all year.  Starts by month:
April: 2 bad starts, 4 good/great starts
May: 1 bad start, 2 good/great starts, 2 so-so starts
June: 3 bad starts, 2 good starts, 1 so-so start
July: 2 so-so starts
August: 2 bad starts, 1 good start, 3 so-so starts
September: 2 bad starts, 1 good/great starts, 2 so-so starts
It's pretty likely he will get a start in the ALDS – also likely he will have a very short leash.  Let's hope we get CJ Wilson the Ace and not CJ Wilson – WTF is he doing out there?