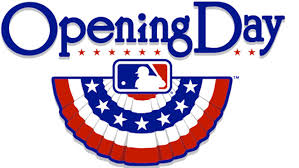 It's finally baseball season in a couple days, which means it's time for Baseball Chick's 2015 predictions.  Let's get this party started with the best division in baseball.
AL WEST
Los Angeles Angels, 95-67
Seattle Mariners, 90-72
Oakland Athletics,  84-78
Houston Astros, 81-81
Texas Rangers, 68-94
Of course I'm going to put the Angels on top, but let's face it – Aside from Howie Kendrick, this team remains largely unchanged from 2014 when they wont 98 games.   There are some question marks around second base still and pitching (as always), but there is little reason the Angels can't repeat as division champs.
I'm also going to predict the first non losing record for the Astros since 2008.
AL CENTRAL
Detroit Tigers, 90-72
Chicago White Sox, 87-75
Cleveland Indians, 86-74
Kansas City Royals, 75-87
Minnesota Twins, 70-92
The White Sox and Indians are going to give Detroit a run, but in the end the potent Detroit offense will come out on top.  The AL Central could be a surprise this year with a lot of moves and changes here.  Justin Verlander is a wild card and his success will be key to holding off the White Sox for the top spot.  If he struggles, #1 and #2 will flip flop.  Also, last year's World Series runner up is one of the few teams in the AL Central that did not get better in the off season (they got worse).  The Royals will be incredibly lucky if they make .500
AL EAST
Toronto Blue Jays, 85-77
New York Yankees, 83-79
Boston Red Sox, 82-80
Baltimore Orioles, 78-84
Tampa Bay Rays, 74-88
There are no standouts here.  This race may just end up being one of the most exciting since several teams will be jockeying for that top stop.  Many are predicting the Red Sox to go from worst to first this year but I feel the Blue Jays will take the top spot.  Overall, the pitching in the AL East is one big snooze fest.  Who's on the mound??
AL WILDCARDS
Mariners, White Sox (Mariners win)
ALCS WINNERS
Angels & Mariners
AL CHAMPION
Angels (duh)
NL WEST
Los Angeles Dodgers, 93-69
San Diego Padres, 88-74
San Francisco Giants, 87-75
Colorado Rockies, 78-84
Arizona Diamondbacks, 67-95
The Padres and Dodgers really shook things up in the off season and that leaves the Giants as the odd team out, and not just because it's an odd numbered year.  Adding Shields to an already amazing rotation, plus the offensive additions, make the Padres one of the teams to watch in 2015, and they just may edge out the Giants for the #2 spot.
NL CENTRAL
St. Louis Cardinals, 88-74
Pittsburg Pirates, 84-78
Chicago Cubs, 81-81
Milwaukee Brewers, 75-87
Cincinnati Reds, 70-92
The Cubs are the most improved team here and could finish above .500.  I don't see them making the playoffs unless Jon Lester and Kris Bryant have pretty huge impacts.  Other than that, meh.  This is my least favorite division in all of baseball, and I'm certainly no Cardinals fan.
NL EAST
Washington Nationals, 98-64
Miami Marlins, 88-74
New York Mets, 82-80
Atlanta Braves, 75-87
Philadelphia Phillies, 68-94
My how far the Phillies have fallen.  They were once good and their division is now topped by perhaps one of the most potent teams in all of baseball with potentially an all-time great rotation.  The Nats will easily win with superior pitching and a dominant offense (especially if Bryce Harper stays healthy).
NL WILDCARDS
Padres & Marlins (Padres win)
NLCS WINNERS
Padres & Nationals
NL CHAMPION
Nationals
World Series Champion: Angels in 7 games