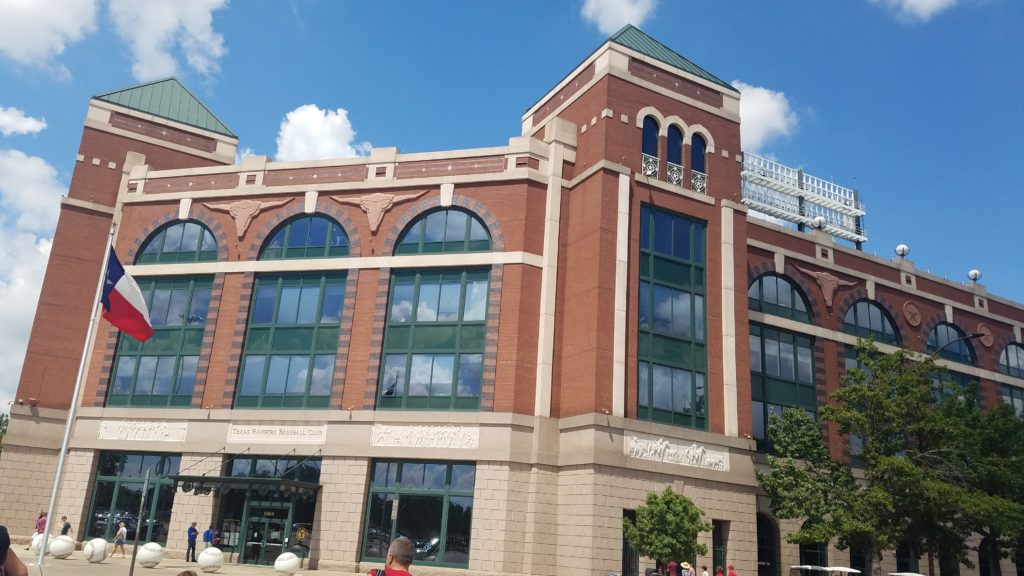 We drove up to Arlington from Houston on Sunday morning. It's not a bad drive, but there sure isn't a whole lot to see on the way. The sun was out and warming up quickly.
Parking at Globe Life Park is easy and there are a bunch of different lots.  We chose to park in Lot D for easier access to the 360 freeway and it was easy in and out with a short walk to the stadium.
Despite the fact that the stadium was only built in 1991, enjoy it while it lasts since you only have through the 2020 season before the new 1 billion dollar ballpark and entertainment complex is finished.  Fortunately, the new stadium will have a retractable roof because if you visit the ballpark on a hot day (like we did), you will be clamoring for shade.  It was 90 degrees when we visited the stadium toward the end of August and it was pretty unbearable in the sun, which was a large portion of the seating area.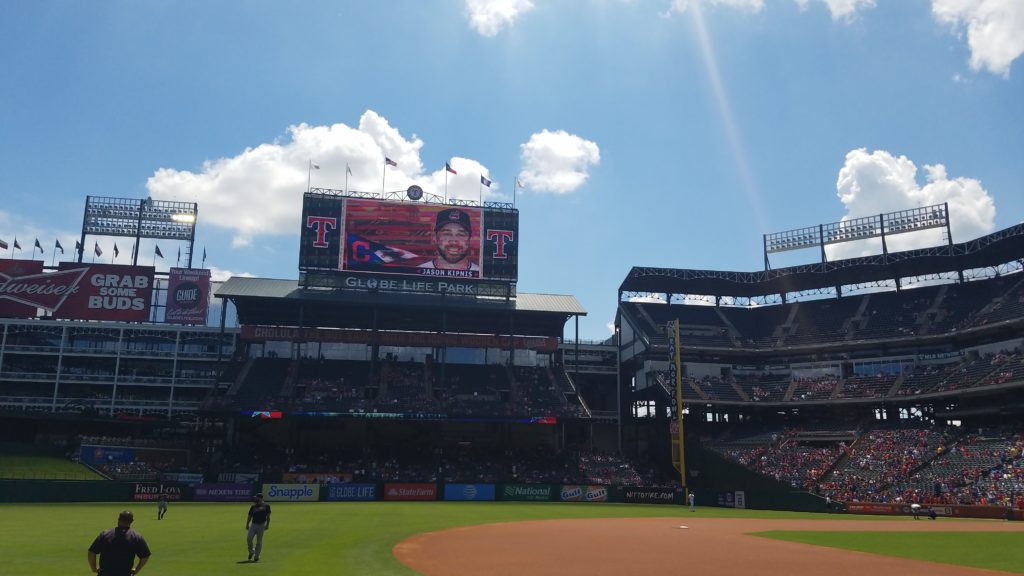 If you do go on a hot day, you can check out the "beers of Texas" to quench your thirst and consume some local suds.  There isn't much else in the stadium for good craft beer, but at least they have some options.
As we baked in the hot Texas sun, we watch the Indians take the field for warmups and were able to say hi to Jason Kipnis whom we had met through his sister at a game in Anaheim earlier in the season.  It was a quick a hello since after all, he had a game to play!
Maybe beer isn't your thing and you want to get some food.  There aren't a
lot of great  unique options at this ballpark, unless you idea of good food is a ginormous foot long (and longer) stuff that you can't possibly eat by yourself.
I was a fan of the architecture here and the offices that are built into the outfield.  Will be interesting to see if they keep any of that feel at the new ballpark.  The bathrooms were fine, nothing special to see there – though they were a bit run down.
Globe Life Park has a pretty good size team store, but certainly not the biggest we've seen.
The scoreboards were nice and big and easy to see but the out of town scoreboard was a bit difficult to read in the bright sun.  Despite what Josh Hamilton once said, it sure felt like a baseball town, and the fans were pretty in to the game and were lively – despite the scorching heat.
In the end, the Indians lost to the home town Rangers, and Jason Kipnis drove in the sole Cleveland run in a bit of snooze fest that ended with a 2-1 score.