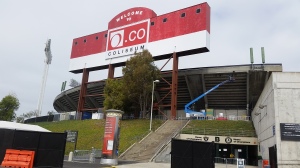 "I don't even come here on a Friday night and I live here." – This statement by a local pretty much sums up the neighborhood in which O.Co Coliseum is located.  Not only is the stadium old and run-down, but you take a wrong turn on a Friday night near the ballpark and you might get a different kind of action than you were hoping for.
We arrived early and found a small park n ride lot near the bridge to the stadium.  After conversing with some locals, we felt our car was safe enough and began our journey across the prison-looking bridge toward the large cement goliath known as O.Co Coliseum.
The stadium does have plenty of parking in the their lot though I never found out the price.  You can also take the train or park for free in the Bart lot which has varying degrees of reports on how safe it is.
The ballpark is a bit better looking than I imagined, though to be fair – anything you throw a baseball diamond in a stadium and complete it with bright green grass and it's hard to go too wrong.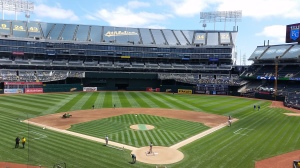 Our seats were on the third base side and had a pretty good view but we ended up in some empty seats behind home plate on the club level.  There were a lot of friendly fans around despite the the fact that the A's are horrible.  It's nice to know some fans are always fans.
The coliseum has some decent food and beer options, and even serves up baseball themed beer by Strike Brewing company.  Overall, the food options are not that spectacular though and O.Co committed a cardinal sin by getting rid of their ice cream souvenir mini helmets.  Who does that??
Everything you've heard about O.Co is true.  The hallways are small and cramped. The bathrooms are dirty and smelly. The team stores (two of them) are pretty small. Overall it has a pretty closed-in and dirty feel to it.  Some day the A's may succeed in getting their new stadium.  They sure need one.
Local themed brewery "Strike Brewing" has some decent beers with great names like Colossus of Clout and Lumber Buster.  Other than that you'll find some Anchor Steam, Goose Island, Sierra Nevada, New Belgium and not much else.
There isn't much to write home about concerning the sound and video which is old and antiquated.  However, O.Co put in shiny new huge HD displays for their 2016 season.
The on field product isn't much better than the rest of the stadium.  We saw the A's lose to the Royals 3-5, despite getting more hits than the visitors.
Our car was safe when we made it back to the parking lot and it was time to begin our drive back to San Diego.