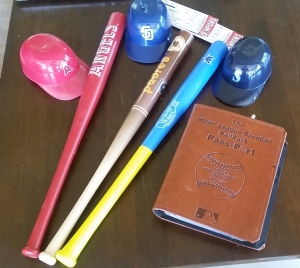 Being an Angels fan, this is my "home" stadium, as well as the one I know most about. I would love to have started my trip here but alas, the Angels were on the road for the start of the 2015 season and I wanted to start my trip on opening day, which also happened to be my birthday.
It had already been a crazy week with a trip to Seattle and 3 baseball games in 5 days, but it was about to get crazier when my car broke down about 45 minutes into the 1.5 hour trip up to Anaheim – because why not?  I was ready to give up and find our way home, but Sara talked me into a Lyft ride up to the game, which would likely make this our most expensive trip to a stadium (airfare not included). I was able to see the first pitch – just barely, as we made our way to our seats.
Normally, getting to Angels Stadium is not too difficult, aside from traffic on weekdays.  The Metrolink train drops you off in the parking lot and costs $7 with their "Angels Express" deal.  You can pick this train up as far south as San Juan Capistrano and as far north as Los Angeles Union Station (the later if you are one of the three Angels fans who  live in LA).  The last train leaves the lot 30 minutes after the game ends or at 11:30PM (whichever comes first).  The Angels also have a massive parking lot surrounding the stadium with parking rates only $10 (these never get jacked up no matter what game it is or who is playing).  It's easy to get in and none of the parking is that far way from a gate.  Getting out can be tricky, so I'd park near an exit and walk up to the stadium.  If you park close to the stadium you'll be waiting a long, long time to exit on a busy night.
Considering Angels Stadium is one of the oldest parks still operating, it doesn't always feel like it.  Some people are not fans of the fake rock pile in center field but I rather enjoy that and the water, despite it's Disney-like feel.  It never feels horribly crowded even on sell out nights (as opening night was).  The bathroom are clean and plentiful.  Signs of age include the wearing scoreboard and sound system.  I'm sure it won't be long before they do something about upgrading.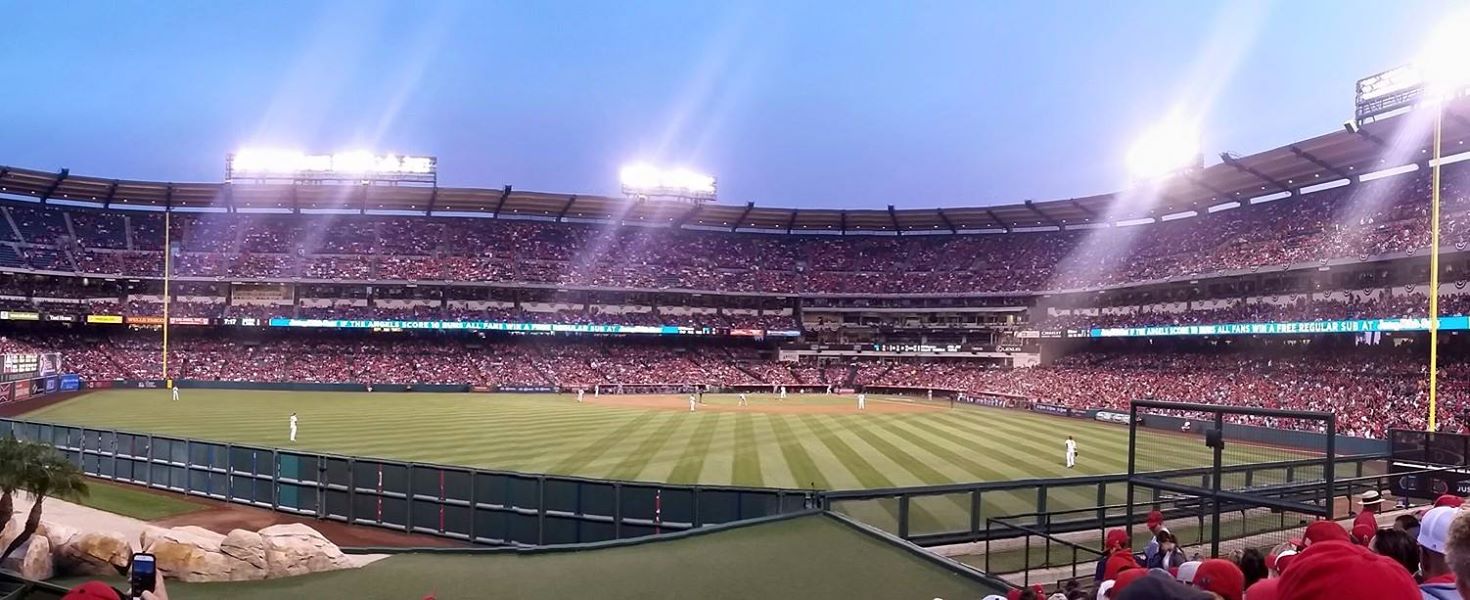 We planted ourselves in our left field seats and suddenly everything was right in the world again.  No matter what is going on outside of the stadium (like a broken down car that is going to cost you a lot of money), there is nothing like the feeling of being inside one of baseball's grand cathedrals.  It was impossible to not have a smile on my face as I watched those first few fastballs whizz into the catchers mitt.
Left field is one of my favorite places to sit since it offers a pretty good view of the game where you don't have to turn your head, and tickets are reasonably priced.  Right field is another good option.  I try to stay away from the lower level outfield sections along the baselines since the seats aren't angled and you find yourself turning your head most of the game.  Of course if you want to spend some money, you can sit closer to the action for some great views.
Beer lovers rejoice!  Angels Stadium is home to the cheapest beer you will find in a ballpark, as well as a fairly large craft beer selection (check out Draft Pick near gate 2.  You can get a 24 oz craft beer here for $12 and even cheaper beer if you like that watered down stuff.  One thing owner Arte Moreno HAS done right was lower the price of beer and keep it down.  Angels Stadium has been home to the cheapest beer in MLB for several years now.
The food here isn't spectacular but there are some good selections.  A popular option is Chronic Tacos which ALWAYS has a long line unless you arrive early (45 minutes+ before first pitch) and the Legends Dog.  You can also get a full sized helmet stuffed with nachos if that is your thing – at least you can wear the helmet afterward (assuming you clean it first).
Unfortunately, the World Series runner-up Kansas City Royals beat the Angels 4-2 and we began our long trip home which consisted of a Lyft ride, waiting for a tow truck, and a tow truck ride – but at least we saw some more baseball!