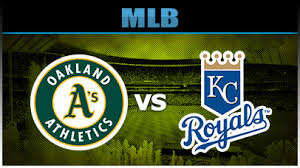 In perhaps what was one of the most exciting wildcard games ever, the Royals topped the Athletics in 12 innings last night in Kansas City.
Below is my recap of the game, though I will admit I missed innings 7-10 (approximately) since I had the unfortunate timing of softball game last night.
Innings 1-5: Pitch Off
Post season games are generally regarded as pitching games and the start of the AL Wildcard game was no exception.  While both pitchers did give up runs in the first inning (including one of two Brandon Moss homeruns), the score remained relatively low early on.  James shields was a little shaky the first two innings, throwing 45 pitches and 27 strikes.  However, he got pretty dialed in and only needed 35 pitches over the next 3 innings to get the job done.  For his part, Jon Lester threw 23 pitches in his first inning but then got dialed in to throw 45 over the next 4 frames.
All was pretty uneventful after Brandon Moss hit his two run homer in the top of the first and Billy Butler drove in Nori Aoki in the bottom of the first, followed by Billy Butler sleeping on the bases to end the 1st inning.
Also of note (for later) is that in the 4th inning, catcher Geovany Soto injured his hand and was replaced by Derek Norris.  Soto had started the game because Norris was pretty horrible at throwing out base runners, and everyone knows the Royals like to run.
Inning 6: WTF Ned Yost?
After Sheilds left the game with two runners on base, Ned Yost made the call to his amazing bullpen for – a starter!  Not to mention, a young starter in the name of Yordando Ventura.  Not to mention a starter who had thrown 73 pitches two days prior.  We all know what happened next – three straight fastballs, with the third going over the fence to crush the hopes and dreams of Royals fans everywhere who had been waiting 29 years to make it back to the playoffs.  Score now: A's 5, Royals 1.  Ventura was pulled two batters later but the damage had been done.  By the time Kelvin Herrera closed out the innings, the score was A's 7, Royals 1.  I'm sure some fans shut off the TV at this point.  How do you come back from that score when Lester is pitching so well and the A's have a great bullpen?
Inning 8: All Your Bases Belong to Us!
Things were pretty quiet for a bit and 28 year old Royals fans were figuring they'd have to wait at least one more year before ever seeing their team in the ALDS again.
The inning started with an Alcides Escobar single, followed by an Alcides Escobar stolen base.  Lester was still pitching and he hadn't thrown over to a base since like 1952.  Combine that with Derek Norris behind the plate and it was go time.  Another hit, this time by Lorenzo Cain, followed by another stolen base and a walk and it was time for Lester to leave the game.
By the time the 8th inning ended, the Royals were only down 1 run and had stolen 4 bases (a post season record for one inning).
Inning 9: The Fat Lady Didn't Sing Yet
Another stolen base and another run scored. The Royals fought back and took the game into extra innings.  Royals stolen base tally = 5
Innings 10-11: Trying to Play into October
It seemed at this point as if the game was going to last into October since midnight was fast approaching in Kansas City.  Oakland's offense was collapsing and Kansas City had runners on 3rd base both of these innings but still they played ball.
Inning 12: The Drought is Over
After a Josh Reddick Walk, Jed Lowrie sacrifice bunt, and Alberto Callaspo RBI single, sadness swept the Kansas City crowd once more.  The Royals had come close but failed to score the two previous innings, and now had to get at least one run to just stay in the game.
The fireworks started when Eric Hosmer tripled off the left field wall, sending outfielders Sam Fuld and Jonny Gomes crashing down to the ground.  One has to wonder if Coco Crisp (left the game with a hamstring injury in the 11th) would have snagged that ball if he were still in the game?
The rest of the game went like this:  Christian Colon single, Hosmer scores – tie game!, Alex Gordon pop out for second out, Christian Colon steals second base, Salvador Perez singles in Colon, The Kansas City Cinderella season continues!
When all was said and done, Kansas City set the single inning stolen base record for a playoff game and tied the record of 7 stolen bases in any one playoff game.  Of course they took 12 innings to do it, but keep in mind they didn't even start stealing bases until the 8th inning!  6 of those 7 stolen bases resulted in runs.  I dare someone to tell the Royals that stealing bases doesn't matter anymore.
See you in Anaheim, Royals!