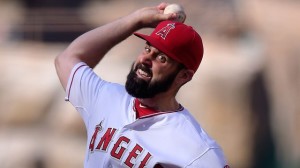 Some lingering questions remain regarding the Angels current rotation like, who the heck is going to pitch on Saturday??  Who is their ace now that Richards is out?  You know, that go to man who you throw in and know you are going to win the game unless something crazy happens or the offense doesn't show up?
Since the Angels didn't heed my advice and call up a minor league starter for last night, that takes Santiago out of the mix for the A's series unless he pitches on 4 days rest Sunday which is unlikely.  However, he did only throw 93 pitches so stranger things have happened.
First question – who is going to pitch Sunday?  Bartolo Colon?  RA Dickey? Scott Feldman?  None of these waiver wire pitchers come cheap and the Angels could be bumping up against the Salary Cap (AKA Luxury Tax) for 2015 and who knows if Arte wants to go over that?  Not to mention, you need to offer these teams some talent in return for one of these guys and who do we have to offer?  Personally, given age and 2014 pitching stats, I wouldn't want to see a trade for any of these three unless we give up John McDonald.  They are all decent pitchers but not overly impressive.   Also – are we looking at pitching to get us through September or trying to add a 2015 player now since Skaggs is out and the return date for Richards is questionable?
Personally, I'd like to see Roth or Rucinski get the nod Saturday with the bullpen on early notice just in case.  I don't want to see a trade deal that weakens our future and possibly our 2015 season.  After September 1st, I'd like to see some sort of platoon situation were you have a guy throw 3-4 innings who doesn't even have to be a starter, then hit the bullpen early or a second starter.  This is only a problem for 5 games through the months of September and those games would fall against the Twins, Rangers, Mariners, Rangers and Mariners.  We can get by with a 4 man rotation through the playoffs.
The second question (that at least I have), is who is our #1 starter?  Who is going to pitch that 1 game wild card matchup if it happens?  Who gets game #1 of the ALDCS?  I'm pretty sure in Sciosicas' mind that man is Weaver.  Weaver has 20 post seasons innings under his belt with a 1.065 WHIP and 9.6 K/9.  Pretty impressive and post season experience matters.  But what about The Beard?  Shoemaker has been impressive this season, especially in his two starts since Richards went down.
Shoemaker currently has a decent 1.6 WAR compared to 1.3 for Weaver.  Let's look at some other stats below:
| | | |
| --- | --- | --- |
|   | Shoemaker | Weaver |
| ERA | 3.33 | 3.72 |
| FIP | 3.38 | 4.25 |
| WHIP | 1.08 | 1.23 |
| K/9 | 8.78 | 6.92 |
| AVG | 0.235 | 0.24 |
| QS% | 50% | 61% |
Shoemaker and Weaver both have a 63% Quality start rating their last 8 games.  All around, Shoemaker has some very impressive stats and he seems to just keep getting better.  Given that he has no post season experience, I'm sure Weaver will get the game #1 nod but just barely.  Shoemaker should definitely be the #2 guy followed by Wilson and Santiago.
Shoemaker is going to be pretty exciting to watch the rest of this season and into next. He certainly is helping to fill that void left by Richards and has undoubtedly made 29 other teams regretful that he went undrafted and signed with the Angels for a measly 10k.