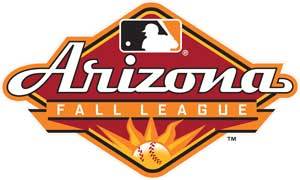 Unfortunately I'm not talking about spring training, though hopefully we can blink and that will be here!  What I am talking about is the Arizona Fall League and the 8 Angels prospects currently playing there.  How the heck are they all doing after just over a week of play?
Position Players:
Kaleb Cowart – This top 4 Angels prospect is batting a dismal .069 with 29 at bats and only 2 hits.  Considering the meek numbers he has put up in 2013 and 2014 for Arkansas, he's feeling less and less "top".
Chad Hinshaw – Hinshaw is doing ok so far with a .250 average in 20 at bats.  Three of his 5 hits have been doubles so he appears to be hitting the ball when he does hit.
Eric Stamets – Stamets only has 12 at bats so far but already has twice as many hits as Kaleb.  He also has a triple but it's too early to tell on this one.
Cal Towey – The best of the position player bunch so far.  Towey is batting .357 with 14 at bats and 2 stolen bases.  He put up some decent numbers at Inland Empire in 2014 so definitely holds some promise.  Let's see what he can do with some more at bats.
Pitchers:
Trevor Gott – Gott has pitched relief in 3 games, giving up zero runs along with 2 strikeouts, zero walks and only 2 hits.
Chris O'Grady – O'Grady has only pitched once with a 3.2 inning outing.  He only have up 1 hit and didn't walk a batter while striking out 1.  Not much to go on but a strong first outing.
Mark Sappington – Three relief appearances with two of them being far from impressive.  Sappington has a 9.00 ERA and has give up 6 hits, 1 walk and 3 runs over 3 innings.
Nate Smith – This #18 prospect has notched 6.1 innings of work with a 2.84 ERA.  He's struck out 3, walked 4 and given up 3 hits.  Nothing too impressive so far.