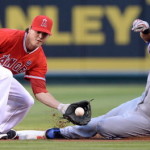 I was literally JUST talking about Grant Green a few days ago and how the Angels seem to think he can't play shortstop.  On the Angels Depth chart, he's NOW listed as short stop, but was not previously.  As we now know, yesterday was Green's first big league start at short stop, AND he hit the game winning single.
This is a great development for the Halos since Aybar can't play every game at short stop, and the previous Aybar backup has left something to be desired (yes I'm looking at you John McDonald).
McDonald has been a mess at the plate since sporting a .357 average in April.  His monthly average was .176 in May, .100 in June, and a dismal .077 in July.  With 54 at bats on the season he's now batting a pitiful .185.
The verdict may be out still on Green, but he has shown some promise, and until he proves otherwise I'd MUCH rather see him fill in for Freese at 3rd and Aybar at SS.  He's a solid all around guy that can be a great asset to the roster.