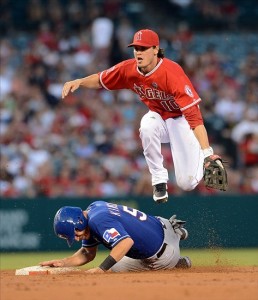 Ten infielders have journeyed to Diablo Stadium in Tempe.  Most notably, are four second basemen though one of them (Grant Green), is listed as an outfielder.  Let's break them all down, including chances of staying on the 25-man Active roster 2015 (for 50%+ of the year).
Erick Aybar
This one is a no brainer and Aybar had a career year last year with highs in runs, RBIs, hits, walks, games played and a trip to the All Star Game.  The only real question is – who will be he flipping double plays with?
2015 Active Roster Chance: 100%
C.J. Cron
This big lovable goof looks more like a computer nerd than a pro baseball player but he can sure hit the crap out of a ball when he's not busy free swinging (41% O-Zone Swing rate).  Cron is also not the best of infielders with limited range and movement.  It's difficult to keep him on a 25 man roster if you just platoon him.  A great asset Cron has is that his stats are nearly identical against left or right handed pitching so he's a versatile platoon candidate.
2015 Active Roster Chance: 75%
Taylor Featherstone
Featherstone is a dark horse for the second base spot but will probably spend much of his season in AAA and possibly on the 40-man roster.  He is a top prospect with a bright future but is time is probably not now.
2015 Active Roster Chance: 25%
David Freese
He is back for another year and certainly our regular starting third baseman. Hopefully Freese gets off to a fast start in 2015 since he batted only .203 last April and .222 in May.
2015 Active Roster Chance: 100%
Johnny Giavotella
Meet dark horse #2 for the starting spot at second base.  Giavotella is probably third in line behind Josh Rutledge and Grant Green and does come with big league experience (more than Green).  He has a career .302 in the minors and doesn't strike out a ton.
2015 Active Roster Chance: 30%
Kyle Kubitza
The only way Kubitza makes the active roster is if something happens to Rutledge or Freese, in which case he's needed for third base depth.  He could be the third baseman of the future but not this year. His .295/.405/.470 and 21 stolen bases in AA last year was respectable and he will probably spend much of the season in AAA on the 40 man roster.
2015 Active Roster Chance: 20%
Efren Navarro
Navarro played 64 games with the Angels last season with a .302 OBP.  That is a far cry from his .418 OBP in 72 games with Salt Lake.  Navarro does add good depth on the roster and is able to play 1B and LF which, in light of Hamilton's current situation may benefit his playing time.  He will stay on the 40 man and probably flirt close to that 50% mark with time on the active roster.
2015 Active Roster Chance: 50%
Albert Pujols
He is getting older but his HR number and AVG came back up last year.  Can he put up another 30HR .300AVG season?  It's quite possible and with Hamilton in question (even if he does get healthy), we are going to need the regular power of Pujols in the lineup.
2015 Active Roster Chance: 100%
Josh Rutledge
Josh is a dual for a job this spring agains Grant Green (and Giavotella & Featherstone to some extent).  He has the most big league experience (266) games and by most accounts a better glove than Green and a bit more plate discipline.  Most will say the job is his to lose but expect Green to give him a run for his money and Green already has team chemistry.
2015 Active Roster Chance: 80%
Grant Green
He happens to be a favorite of mine, but mostly because he had the best Angels walk up song of 2014.  Purely looking at the numbers, he has some work to do if he wants to take the job from Rutledge.  2014 was a great year for green with his first big league HR, his first big league start at SS but then he was sidelined with an injury.  Will 2015 be even better for him?
2015 Active Roster Chance: 75%