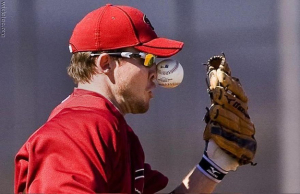 To say the Angels season has been not pretty so far, is an understatement.  But not to worry right?  The Halos always start off slow, so who cares?  A slow start this year amounts to 11-14 through the first 25 games.  That record puts them 2.5 games BACK from the 2014 Angels who started off SLOW but were still 14-12 through the end of April.  Never mind that our "ace" has no idea what's wrong with his pitching, or that Matt Joyce received the worst hitter of the month award with Chris Iannetta getting a dishonorable mention.  The Angels pretty much have problems all around, though most notably in offense.  It's a long season but if you had to predict based on the current roster and their performance, you are looking at a 3rd of 4th place finish and NOT another trip to the post season.
2014/2015 Comparison (26 games in 2014, 25 games in 2015)
Win% = .538/.440
ERA = 3.55/3.89
WHIP = 1.21/1.28
Ks = 221/169
AVG = .259/.224
OPS = .776/.628
Runs = 146/95
HR = 37/21
SB = 19/10
By the above comparisons, you can see the problem lies mostly with our dismal offense, which is no surprise.  Our pitching ERA & WHIP is pretty similar, however, our strikeouts are way down.  A 35 point drop in batting average, and 148 point drop in OPS are pretty telling.  Let alone that we have almost half the home runs and half the stolen bases from our 2014 start.
Some options are to fix our struggling team:
Do something with Weaver and add Tropeano, Heaney or Wilk to the rotation.  Weaver needs to figure his sh$t out on the DL or perhaps in a couple of AAA starts.
Joyce needs to go away.  Period.  He is not such a great amazing player that we are waiting for him to "bounce back".  He needs to get traded, DFA, or lost in Tijunana.  Something needs to happen.
Pretty much the same thing for Iannetta.  Perhaps the worst catcher in all of baseball right now, he has no right stepping anywhere on a big league field right now, let alone with how many starts he gets. He looks lost and weak. This guy needs some AAA time and maybe he can find it again.
Bring up Carlos Perez to fill Iannetta's shoes.  This dude has a .973 OPS and he's proving himself – give him a shot.
Keep Green on the big league roster and give him more starts in left field, OR bring up Alfredo Marte who is tearing it up in Salt Lake.  He is batting .439 his last 41 at bats and has a .827 OPS on the season.
Like most fans, I'm getting incredibly tired of Scioscia doing the same thing over and over again, expecting different results.  We need a big shakeup.  We need some fresh bats.  We need Weaver to figure it out.  Come on Angels!!