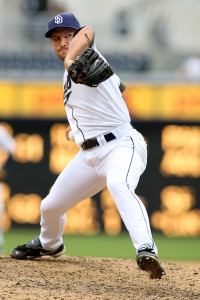 It's no surprise that the Angels are badly in need of pitching help.  The questions are who and how?  David Price rumors have recently been circulating and while there is no question he is a dominant pitcher that could greatly benefit the Angels starting rotation – do we need a starting pitcher when the Angels starters have the fifth best ERA in the AL and third best WHIP?  Undoubtably, with the addition of someone like Price, the rotation would be incredible.
Who would be the odd man out in a Price acquisition?  Weaver and Wilson aren't going anywhere.  Richards has been pitching like he's there to stay as well.  Skaggs is set to make his return on Saturday and his spot would definitely be in question with a Price trade.  Skaggs (like Santiago) is a lefty that could be well suited to the southpaw weak/lacking bullpen.  Overall, I consider a trade for a starter highly unlikely, despite the Angels apparent interest in Price.  If I were proven wrong, then I would assume Skaggs and Santiago would stay in the pen that is need of some lefties.
The Angels are also said to be looking for a solid lefty reliever, which makes a lot more sense.  While I would love to see Price in an Angels uniform, the cost may be too high and the benefit may not be enough.  What good does a solid starter do for you when you can't close the game?  Names like Josh Outman have been thrown out, but I'm not convinced we need only to look at lefty option.  I mean, I completely understand the advantage lefty pitcher have over lefty hitters and I under the physics of hitting against a an opposite vs. same handed pitcher.  But what if the pitcher in question is right handed and throws against lefties JUST AS WELL  as a left handed pitcher does?  And let's look at the main Angels foe – Oakland.  Despite having a high percentage of lefty/switch hitters on their team, they actually hit BETTER against left handed pitchers by six points.
I would love to see the Angels sign someone like Huston Street.  Not a lefty but how can you argue with a .96 ERA, .786 WHIP and being 20 for 20 in save opportunities?  He holds right handed batters to a .132 average and lefties to a very respectable .182.  Outman on the other hand holds lefties to a near Street-like .188 but righties have been hitting him for a .353 this year.   How about a pitcher than can do well in both situations no matter what arm his pitches are released from?  I'd much rather have a flexible and strong bullpen arm than one who only comes in to pitch in less frequent situations.
One thing for sure is that the Angels will have a different pitching staff in the near future and that can very well put them over the top for a playoff spot.