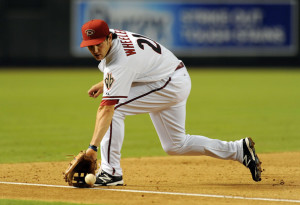 The Angels have invited 11 non roster position players to join them in sunny Tempe this spring.  Some names you have probably heard of, and others not so much.  Let's break them down, including chances of a roster spot (at any point) in 2015.
Charles Cutler – C
Cutler was signed to a minor league contact with a Tempe invite.  He has decent numbers with 7 seasons in the minors batting .304 and he only strikeouts about once every 8 at bats.  Cutler can also play 1B and OF, the later of which is odd for a catcher who has no speed (8 SB in 7 years).
Cutler is one of many catchers the Angels signed this past off season.
2015 Roster Chance: 0%
Stephen McGee – C
Picked in the 9th round of the 2013 draft, McGee is no standout.  He batted .217 in his first full minor league season last year with only 2 homeruns.  He's likely around just to be another man behind the plate for all the pitchers Dipoto picked up.
2015 Roster Chance: 0%
Jackson Williams – C
Apparently Dipoto can't have enough mediocre catchers on the roster and/or in spring training.  Williams has a career minor league average of .223 and a mere 14 at bats in the majors.
2015 Roster Chance: 0%
Sherman Johnson – 2B
Johnson played A advanced in his thid minor league season in 2014.  He his .276 with 17 HR, 13  triples, 26 SB and 107 runs scored in 136 games.  Those kind of numbers could make him a dark horse candidate for the second base job if he had played at least AA ball before last season.  Maybe next year – he has the potential.
2015 Roster Chance: 5%
Mark Krauss – 1B
For some reason, Dipoto thought it wise to claim Krauss off waivers fromt he Astros.  If they last place team doesn't want him – we'll take him! Perhaps it was his .194 average with the Astros last year that sold us?  Or maybe it's that he strikes out almost as much as Mike Trout with none of the other benefits?
2015 Roster Chance: 0%
Eric Stamets – SS
This kid can play ball and has a great glove.  He options are limited with the Angels perhaps since Dipoto clearly sees Roberto Baldoquin as our SS of the future.  Stamets is just 23 and he played well in the Arizona Fall League.  We won't see him hit the diamond in 2015 with Aybar, and all our other infield options.
2015 Roster Chance: 5%
Ryan Wheeler – 3B
Wheeler sports a .233 major league and .306 minor league  average.  He did have a .373 OBP after moving to Salt Lake last season and is a left handed batter which could be beneficial to Scioscia.  He'll got a great shot at least making September callups.
2015 Roster Chance: 60%
Alex Yarbrough – 2B
YASB (Yet another second baseman).  The Angels have been excited about him since 2012 and he put up decent numbers in AA last year though he did get caught stealing 6 times in 12 tries.  Stop running Alex!  Infield is crowded right now so his 2015 roster odds are not great.
2015 Roster Chance: 5%
Roger Kieschnick – OF
The Angels have their outfield pretty locked down, even with Josh Hamilton continually playing the game of operation.  Kieschnick has had a couple of brief stints in the majors that have results in a .200 average.  He bats left, so he has that going for him but that's about it.  Hopefully he gets trading or doesn't make the roster because it's difficult to type his last name.
2015 Roster Chance: 0%
Alfredo Marte – OF
Marte was suspended for taking performance enhancing drugs in 2011.  So.. what was Dipoto thinking?  Only guess is that he knows someone.  That or he was a package deal with Kieschnick.  There I go typing that name again.
2015 Roster Chance: 0%
D'Arby Myers – OF
Whenever I see his first name I start singing the 80s song "Wishing Well".  Good tune.  Myers is going on his 10th season and has yet to make it out of AA.  Unless Trout, Kalhoun, Hamilton, Cowgill & Joyce all get taken away by the rapture and Marte doses up again, I don't see him joining the Angels big league roster.
2015 Roster Chance: -5%