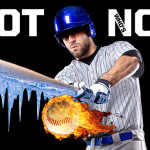 Today we are going to look at the playoff contenders that are hot – and those that are not.  September is the time to go on a hot streak and it certainly is not the time to get cold.  It's make or break time for about 13-15 teams and only 10 of them are heading to the playoffs (with only 6 avoiding that dreaded one game wildcard matchup).
Hot:
Los Angeles Angels
The Angels are riding a 5 game win streak where they have scored 34 runs on 70 hits.  They absolutely blasted the Twins on Sunday on their way to a sweep and made the Indians wish on Monday that their rain out makeup game never happened.  Before their two loses to Houston, they also swept the Oakland Athletics in 4 games.  They are riding a 12-3 record over their past 15 games.
St. Louis Cardinals
The Brewers have been on their tail but the Cardinals won the series against them over the weekend and are 8-2 their last 10 games.  The Cardinals also swept the contending Pirates last week, further pushing themselves into October.  Wainwright is looking strong with a complete game 1 run gem on Sunday and since 2011, the Cards have the best September record in baseball.
San Francisco Giants
The Giants are 10-3 over their last 13 games and Buster Posey has been on fire with .512 AVG over his past 10 games (Pence is at .400 and Blanco, .371).  The Giants overall, have the second best average in the NL so far in September.
Not Hot:
Oakland Athletics
The A's continue to struggle are are 3-9 over their last 12.  Moss & Donaldson are a combined 4 for 34 over the past week.  The A's have a team total over 3 home runs over their past 7 games and two of them come from the newly acquired Dunn.  They are now just 2 games above the Mariners in the wild card race and 7.5 games behind the division leading Angels.
Washington Nationals
Dropped 5 out of 6 to the last place Phillies over the past two weeks and thanks to that are now 5-7 over their last 12.  Fortunately for the Nationals, they hold a 7 game lead over the Braves who have been just okay the past two weeks and only managed to gain 1 game on them during that time.
Milwaukee Brewers
The division leaders from just a few weeks back are now a half game back in the wild card race.  The Brew Crew was recently swept by the Giants and the Cubs and have dropped 14 of their last 17 games.